Release: T&P 1.01
We have recently released more improvements and bugfixes for traders on our platform:
We fixed a bug that prevented traders from uploading documents for producers to pre-existing tasks
We fixed a bug that prevented traders from uploading a document for their own company, if they already uploaded documents for producers
We fixed a bug that prevented traders from re-uploading a file to a task if the previous file has been rejected
New feature:
The Received Task Overview has been added to help pre-existing traders with the transition to our new system.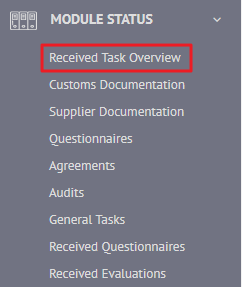 If you exchanged documents for producers in regular tasks, you can now revisit those tasks and upload them for the correct producers.
To make it easier for traders to access those tasks and their documentation, we introduced a new view that lets you sort through all tasks you received, called Received Task Overview.
Trader will find it in the navigation sidebar in the Module Status group.
This new view lists all product documentation and supplier documentation tasks you received - to give you easy access to old tasks if you are required to include an additional producer. And it all works the same way you are already used to.
Improvement:
New modal for already requested documents
Additionally, if you request a document from a company that you have already requested, a new modal will give you the option to access the initial task and file, or send a message to the receiver of the task - instead of just displaying an error message.