Collect & Auto-Update product documentation from your suppliers!
With ecratum PDoc Collect product, you can request, collect and archive all necessary product documentation from your suppliers. You can easily create new product document requests or automate documentation requests and check their status with only a few clicks.
Once you have the product activated on your account, you will have access to all your product documents in a central place from where it will be easier and more efficient to work with your suppliers.
PDoc Collect will help you to gather complete documentation about all the products you have bought, keep the documentation updated, have a transparent current status about all the product documentation, see timelines of documentation status and access archived documents/ previous versions of documents.
---
Once using PDoc Collect product you can:
Enhance the efficiency of product documentation flow and updates between you and your supplier
Create Product Groups and choose needed document types needed for organized storage of all received documents
Send Product Document Tasks to your Suppliers, while tracking their completion
Automate document requests. Ensure continued document completeness through ecratum automation feature.
See a totally new level of transparency and fulfilment in your product documentation
---
How to set up PDoc Collect?
1.Create/import your purchased products
Once you have activated the product, you can start creating/importing your Purchased Product storage in PDoc Collect. To learn more details regarding this, you can read the article: How to create/import your purchased products

---
2.Create product groups
After your purchased product storage in PDoc Collect is created, the next step will be to create Purchased Product Groups that will help to better organise your documentation. To learn more, read the article: How to create product groups

---
3.Choose document types
For this step, you must choose the Product Document Types that you need from your business partners. To see how can you do this, read the article: How to choose document types

---
4.Send individual product document task
Now that you have completed the previous steps, you are ready to send Product Document Tasks to your business partners. To read more detail for this step, check out this article: How to send individual product document tasks

---
5. Send multiple product tasks using automation
You can automate the process of collection product documentation using our automation feature. You can easily create automation for your chosen Product Group and start requesting the files you need. To learn more about how to use the automation read the article: How to send product document tasks using automation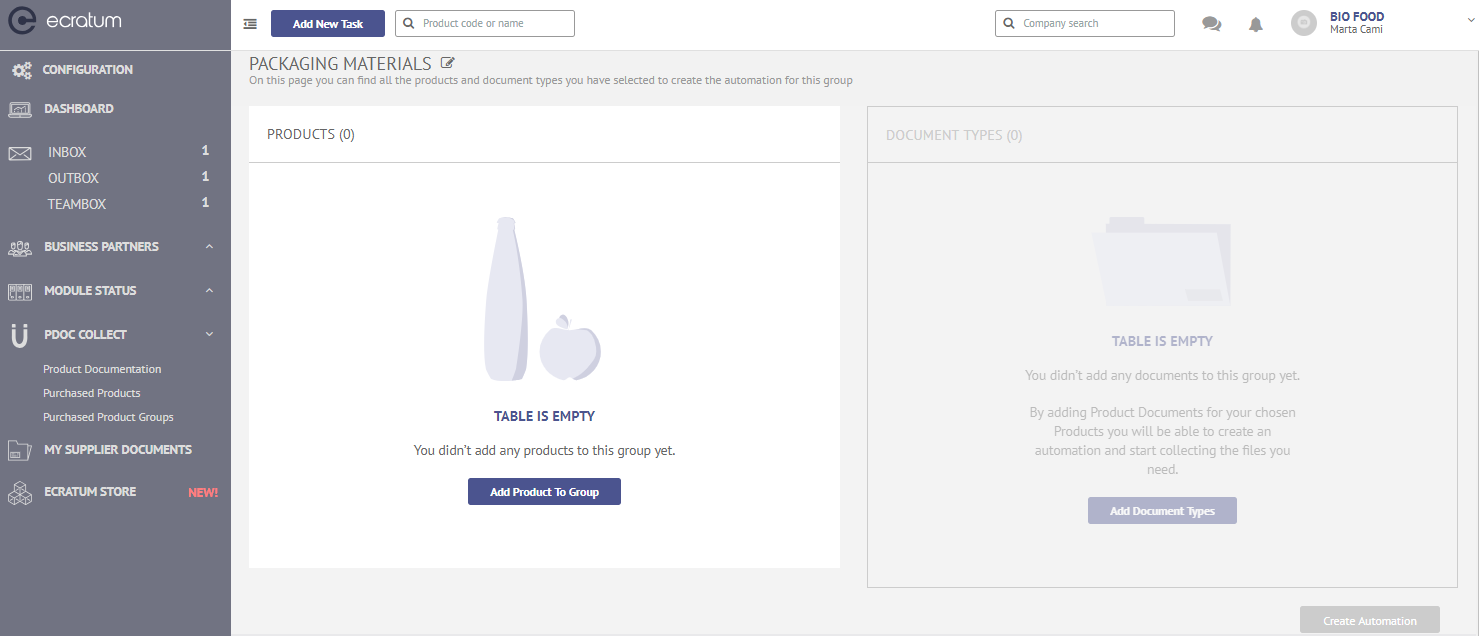 ---
6.Track documentation status
After you have sent tasks to your business partners, Product Documentation view will allow you as a sender company to trace the documentation status of a product over time per supplier. To learn more read the article: How to track documentation status

---
Using PDoc Collect as a supplier
Once your Client starts using PDoc Collect to send product documentation task you will easily receive, access and work on the tasks for the products you sell.
The benefits that you will get by being on the responder side of PDoc Collect product include:
Receive tasks in your inbox

Easily respond to your document requests

Exchange comments on the tasks

Upload all the needed product documentation
To find out more about how you can benefit from collaborating with a business partner that actively uses PDoc Collect, read: As a supplier, how can I use PDoc Collect?