Custom Documentation (CD) is a stand-alone module in ecratum App that provides users the ability to follow, track, export and profile their clients for a specific case of business.
Considering the fact that customs have different agreements in different countries, the CD module allows users to create a Custom Documentation task where they can ask their business partners by choosing the receiver company, product and product Document from which this task should compete. Different from other modules, Custom Documentation provides the sender with additional details on the task besides the file that was requested.
How to send a Customs Documentation task
To start with sending a customs documentation task to your business partner, you need to have the Customs Documentation module activated for your account. After having it activated for you, you need to take the following steps:
Hover your mouse over the Add New Task button and select Customs Documentation out of listed options.

---
After selecting Customs Documentation, you are now taken to the page where you can create a CD task. To create a CD task, you need to:

select a receiver company that will receive the task
select a product
select a customs document type (There is currently one specific document type available to be used with the CD module)
press the Create button to confirm your action

---
Following those steps described above, you have now created a CD task.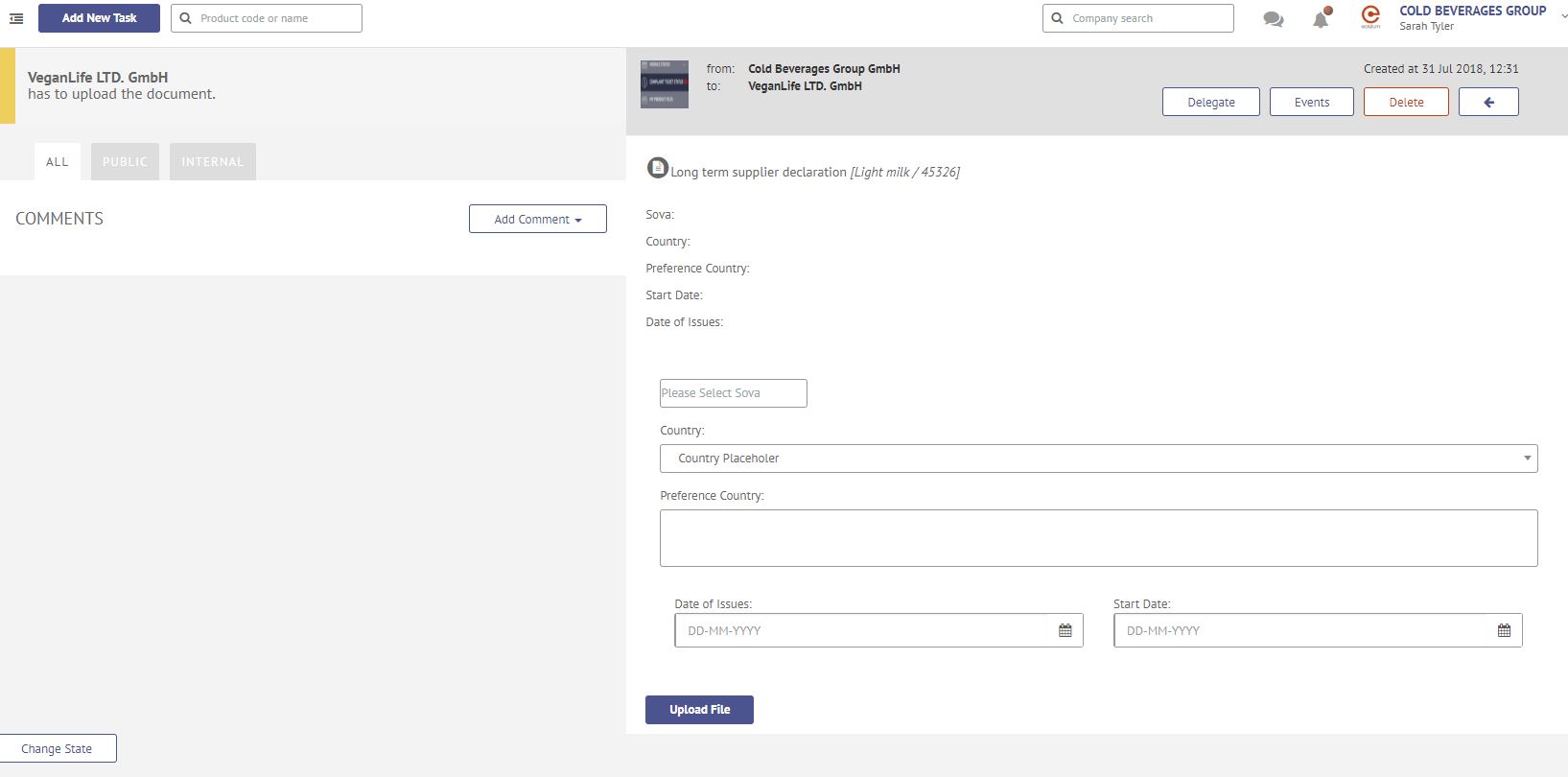 When your business partner receives the CD task that you sent, they will receive the task in their Inbox with a notice that states they have a Customs Documentation task that they need to deal with it in priority.

After sending your business partner a CD task, you are able to:

add a public or internal comment to it
accept or reject the file once your business partner uploads it
delegate the task to a specific user
change the status of the task by pressing the Change State button
delete the task
Note:

The CD tasks have a special time boundary and they are valid for one or two years.
---
How to monitor the status of CD tasks
The CD module allows you to have a special location where you can track the status of the CD tasks that you sent to your business partners. To monitor the status of a CD task that you sent to your business partner:
Click on the Module Status in the sidebar and select Customs Documentation out of options. Here, you have the list of the CD tasks that you sent along with some details such as their status, receiver companies and so on.
Clicking on the Actions button of a CD task,
if you select the View option, you can view that particular task in its detailed page,
if you select the Product Page, you can view the product for which that specific CD Task was created.

---
To read about how your business partner receives and replies to your CD tasks, read this article: How can I reply to a Customs Documentation task?