As a supplier that receives questionnaire tasks from customers, you will be able to:
Send answers to your customers

Reply to questions individually by working on the questions in your Inbox
Access the entire questionnaire and send answers for all questions in one single page
Delegate questions to users within your team

Track the completion of your received questionnaires

Keep track of who sent you questionnaires
Keep track of how many answers you still need to provide for each questionnaire
Note:

As a receiver user of Question task, you should have activated the Service permissions under which this module falls. Any user you wish to be able to receive Question Tasks should be added to the Service plan so that they get the right permissions (Service has unlimited user seats - you can add as many users as you wish.)
Having this permission activated, you will be able to receive Question tasks from the sender
In this article you can get detailed information about how you can react to received Questionnaire Tasks.
---
Send an answer for a received questionnaire
Sending answers through question tasks
When your customers send you a questionnaire, a different question task will be created for each question contained in the questionnaire.
You will receive these

question

tasks in your Inbox.
---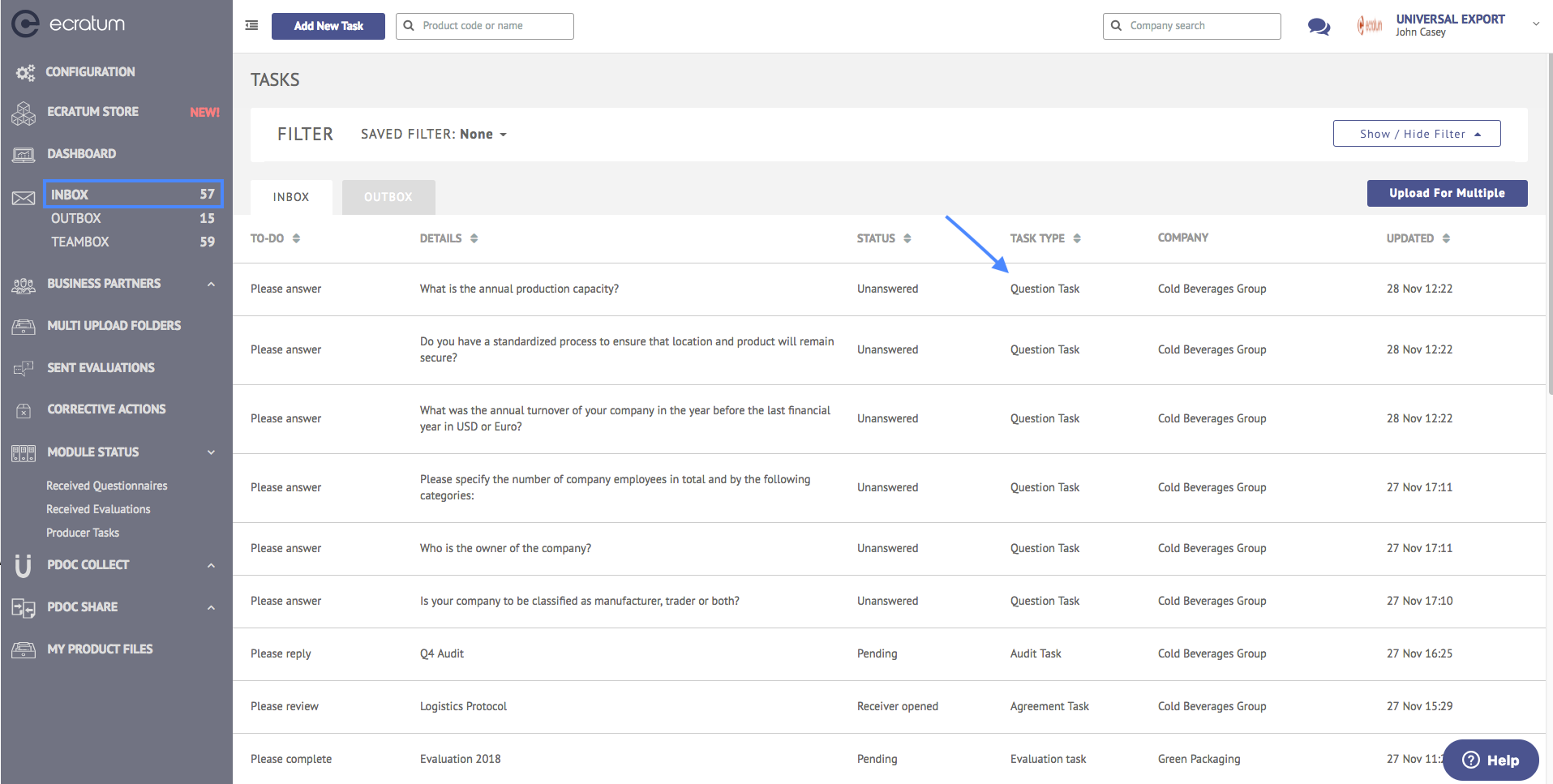 ---
In each task, you can provide

an

answer to the question corresponding to the task.
---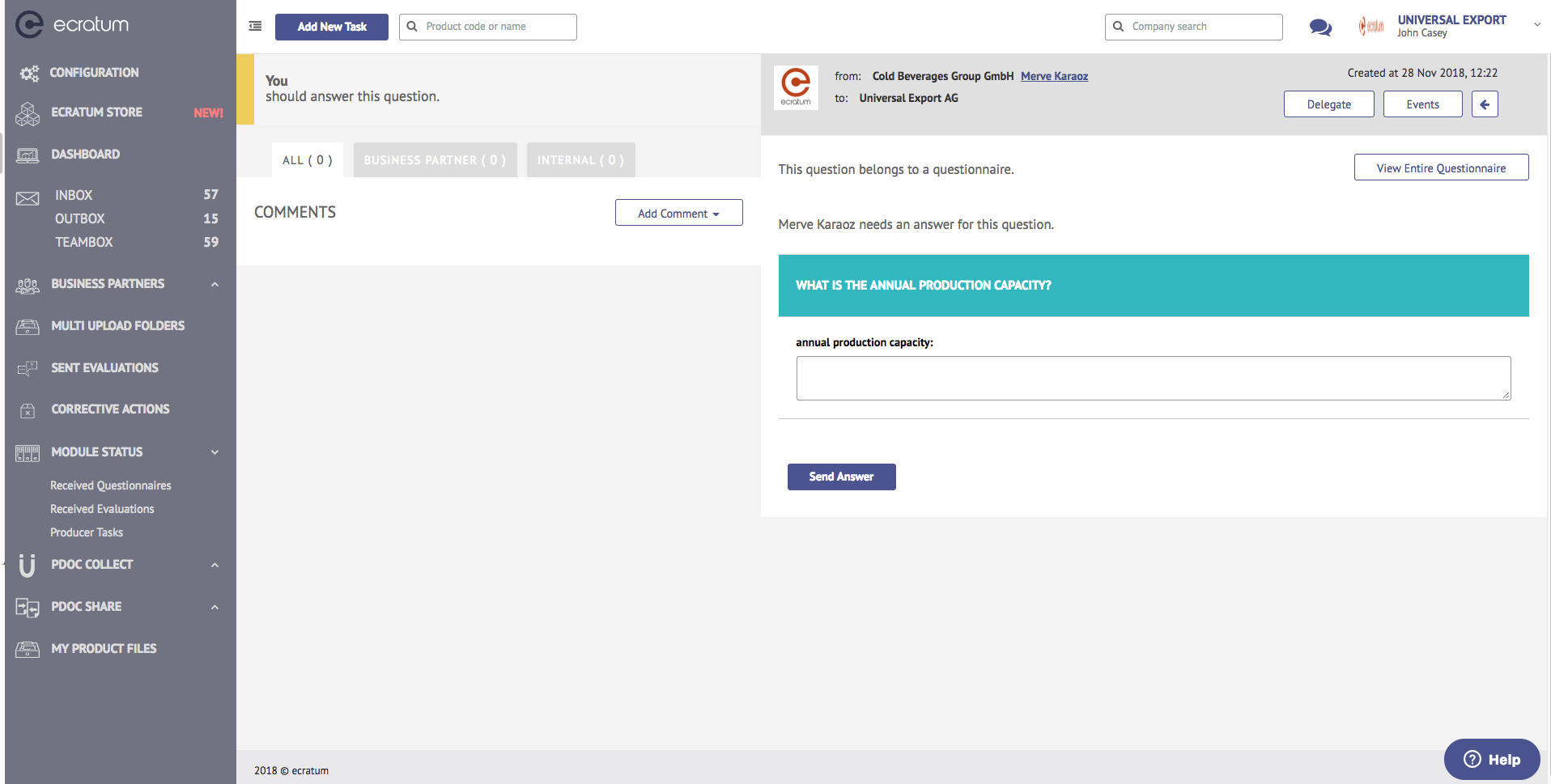 ---
Sending your answers all on one page
If you prefer to provide several answers in one go, you can display the entire questionnaire (all the questions) in one preview and send the questions from there.
You can access the questionnaire preview from two places :
If one of the

question

tasks you have received is attached to a questionnaire, it should contain a link to the whole questionnaire.
---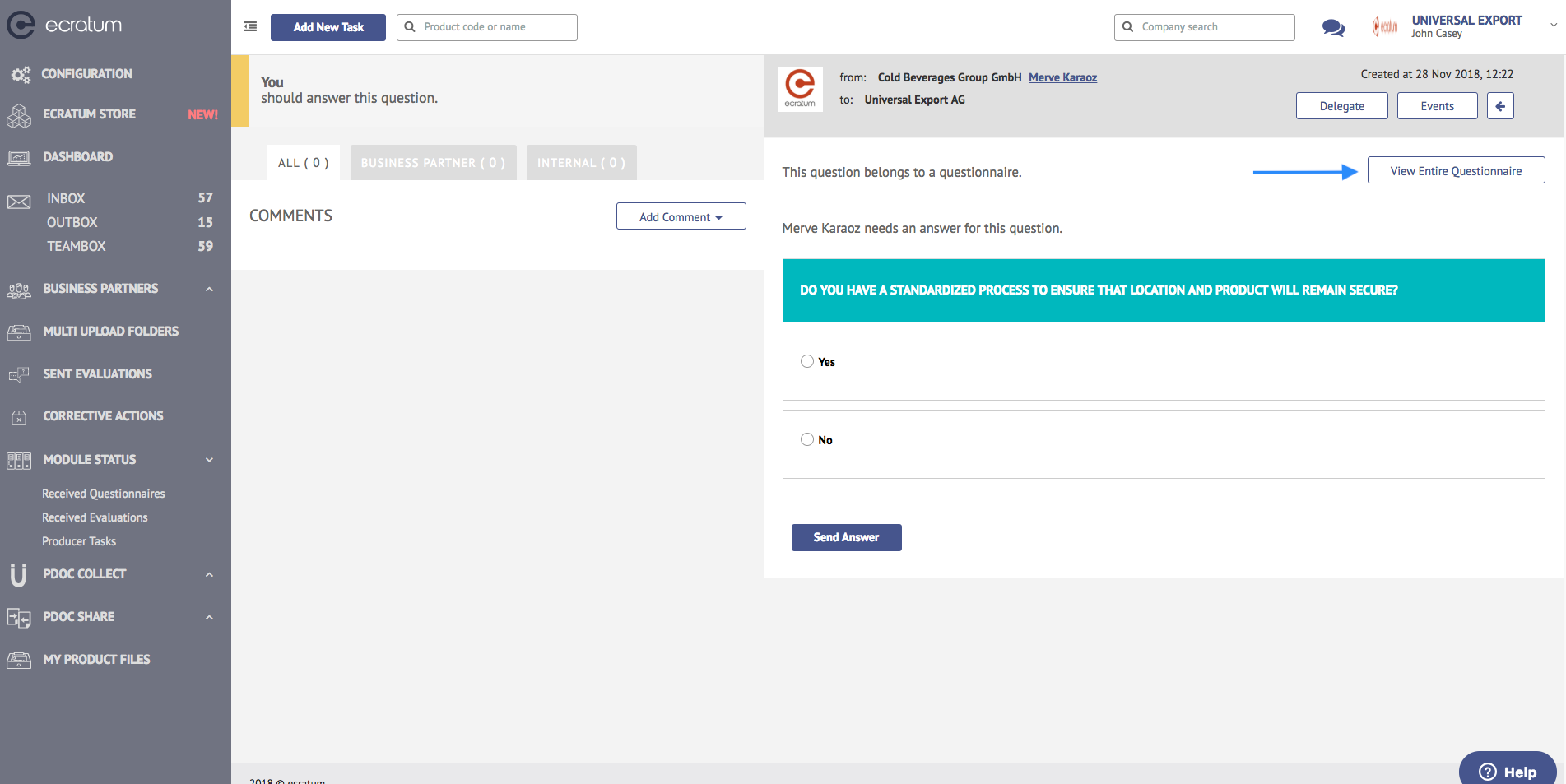 ---
You can also access the questionnaires you have received through your sidebar :

Click Received Questionnaires to access the list of all the questionnaires you have received
Click Preview next to your chosen questionnaire to display the questionnaire on one page
---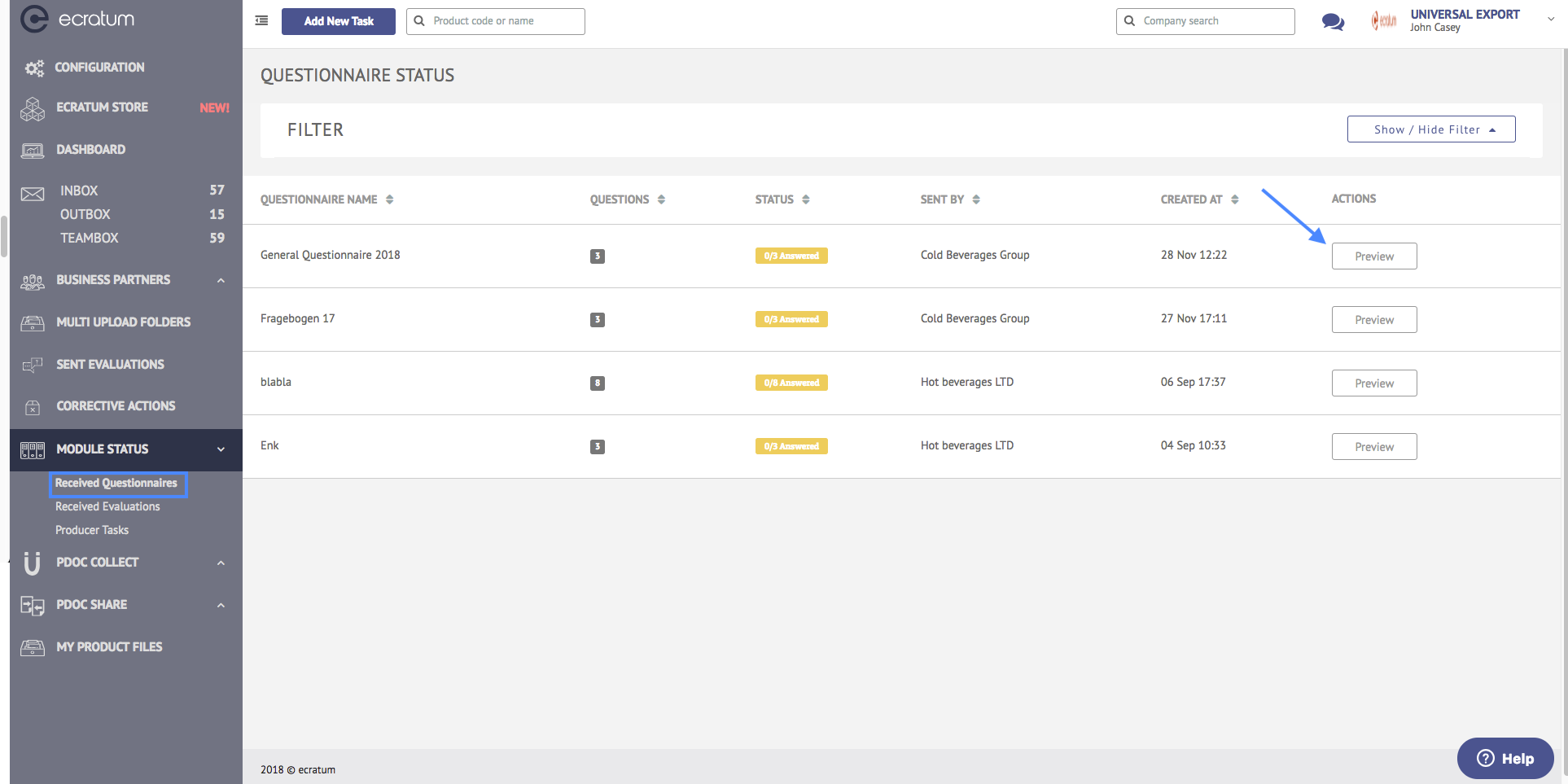 ---
Once on the questionnaire preview page, you will see a complete list of all the questions in the questionnaire displayed one after the other.
For each question you can see :
question

possible answers, for you to fill in
Send answer button
question state (Unanswered if you haven't sent an answer yet)
a delegate feature (if you wish to delegate the question to another user)
---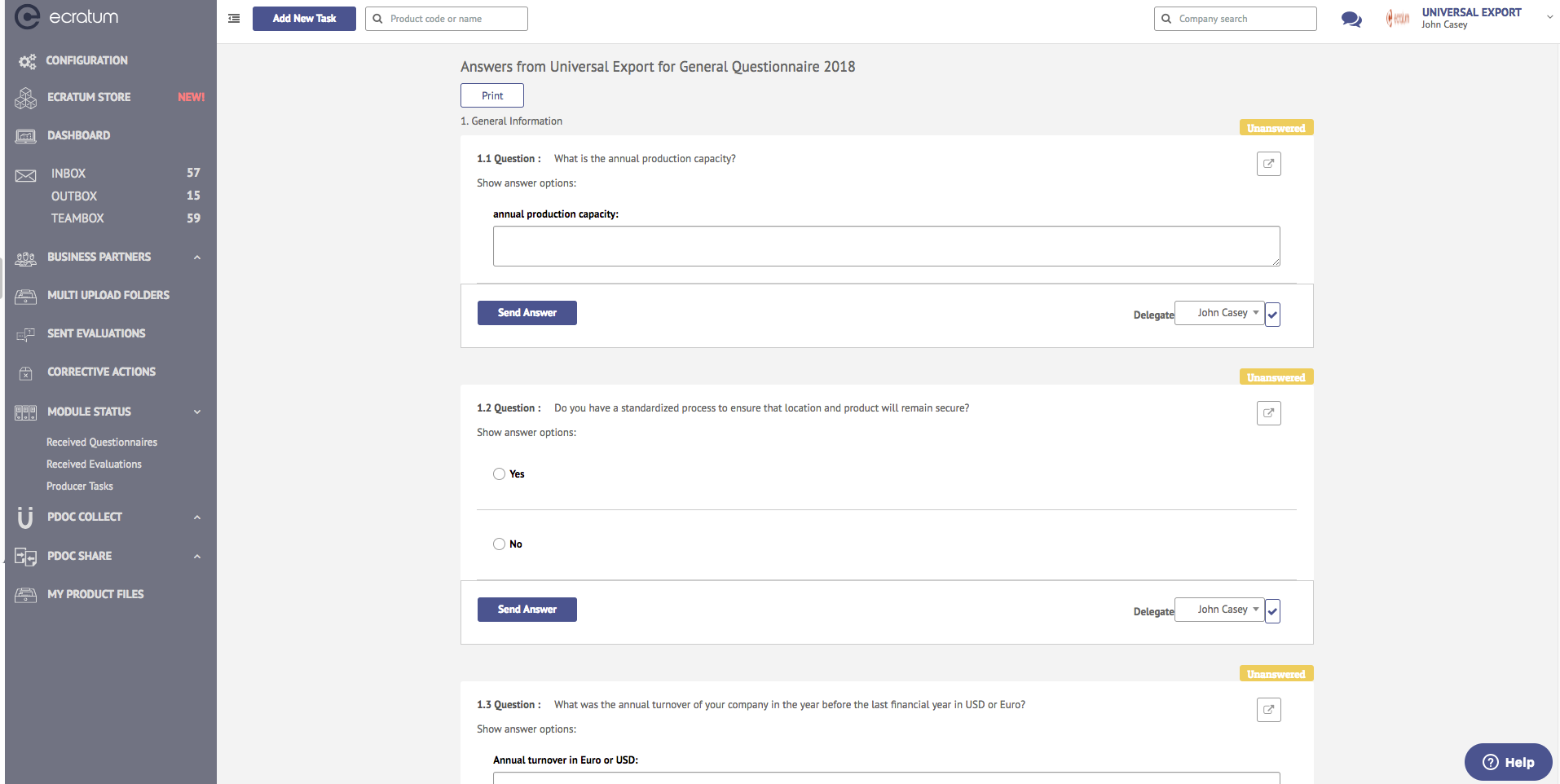 ---
Important:

You have to submit the answer for each individual question by pressing the Send answer button. The reviewing of questions by your customer is handled on a question per question basis so each answer must be sent individually.
---
Send a New Answer After Your First Was Rejected
If your first answer to a question was rejected by your customer for some reason, the process for sending a second answer is very similar.
Sending a new answer through question tasks
When your customer rejects your answer, they are required to leave a comment explaining their decision.
You will receive this question back in your Inbox. On it, you will see the warning text that your answer was rejected, as well as your customer's comment below.
On the right you can provide a new answer and send it back to your business partner.
---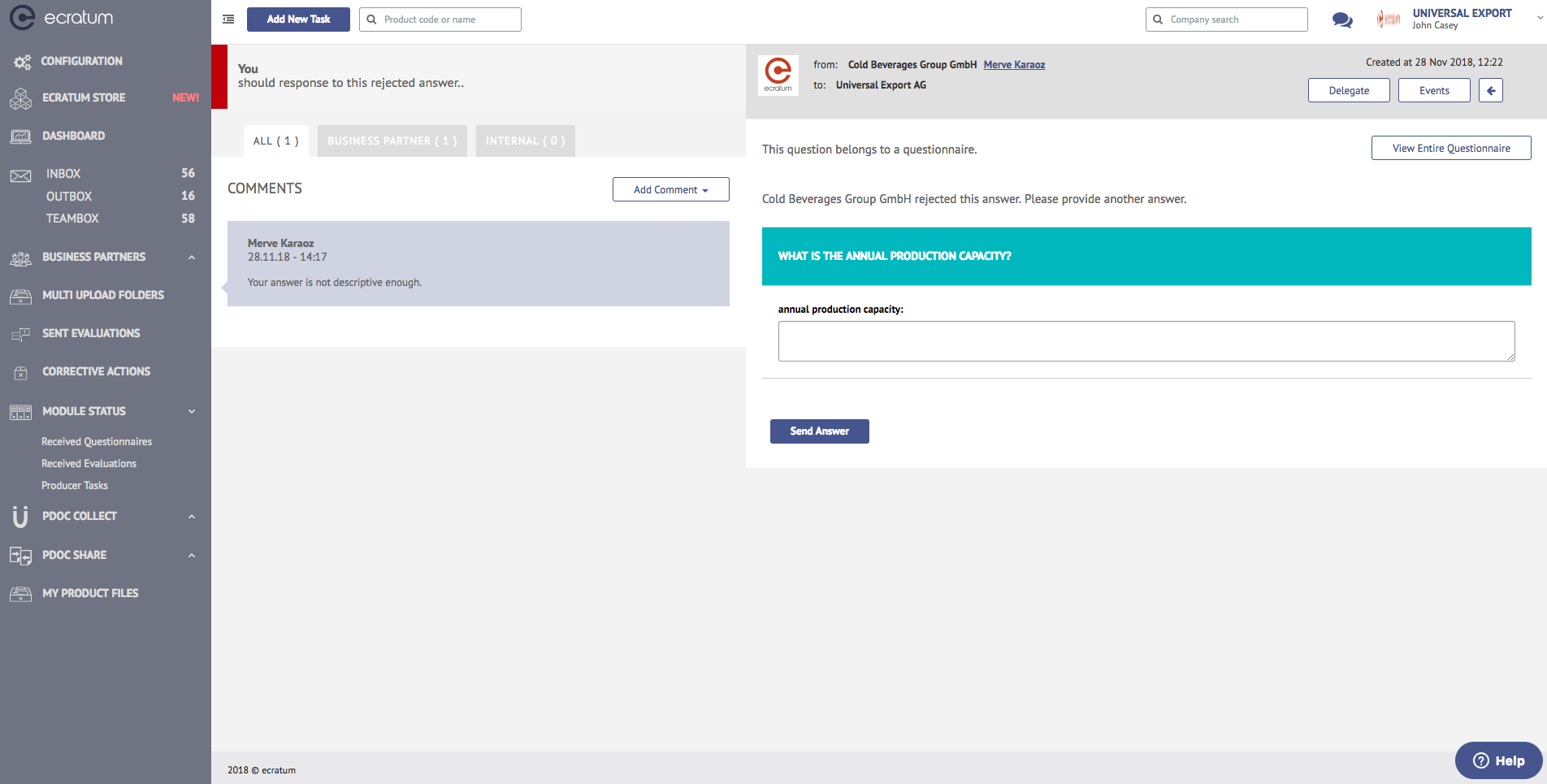 ---
Sending a second answer from the Questionnaire Preview page
If your customer rejects one of your answers, you can see this on the preview page by the state of the answer changing to Rejected.
To provide a second answer, you must go to the Question Task page to give your new answer as your customer comment for rejecting the answer is only visible there.
---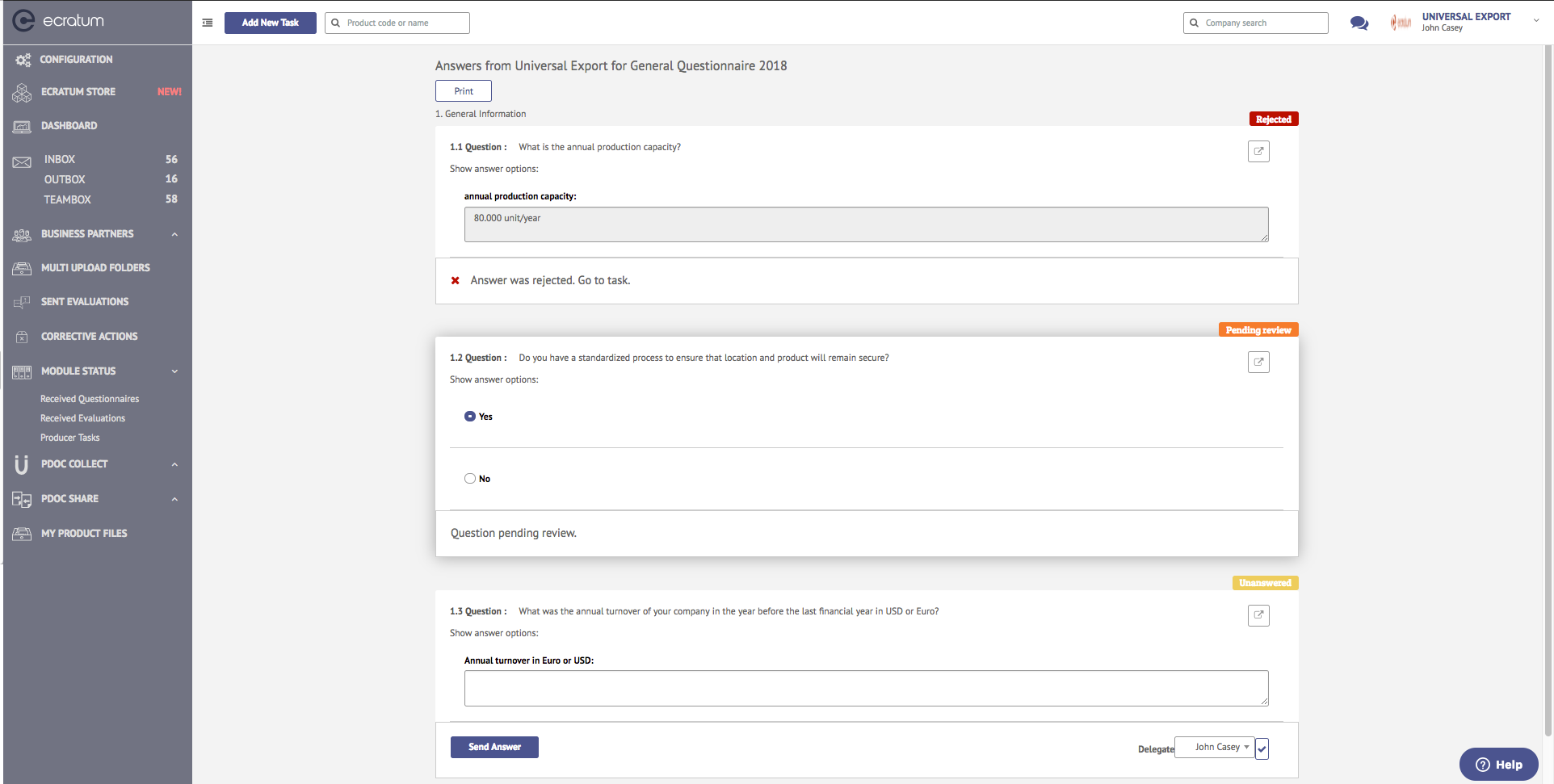 ---
Track completion of your received questionnaires
Viewing your received questionnaires
If a customer sends you a questionnaire, you will receive all individual questions in your inbox in the form of question tasks.
However you can also check the questionnaires you have received on the Received Questionnaires status page, where you can:
View a list of all the questionnaires you have received from all your customers (and filter if you want)
See the status of each questionnaire (in terms of number of answers provided vs. total number)
Click through to the Questionnaire Overview page (see next section)
Click through to the Questionnaire Preview page directly, where you can provide your answers
---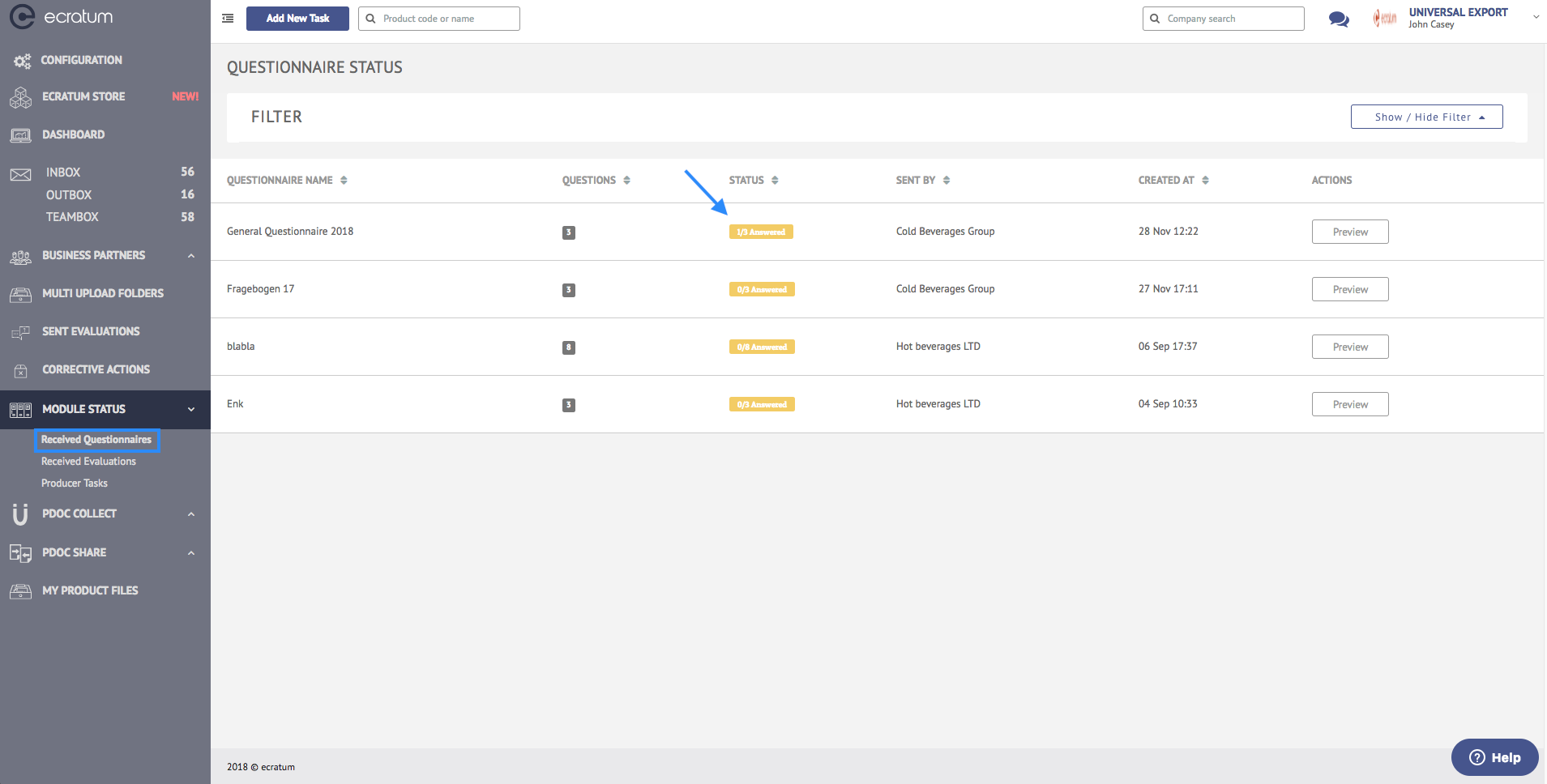 ---
The questionnaire overview page
The questionnaire overview page lists all the questions contained in the corresponding questionnaire.
You can see the status of each question on the right :
Unanswered

: you have not provided an answer yet

Pending Review

: your customer has received your answer and must review it

Accepted

: your customer has accepted your answer

Rejected

: your customer has rejected your answer
---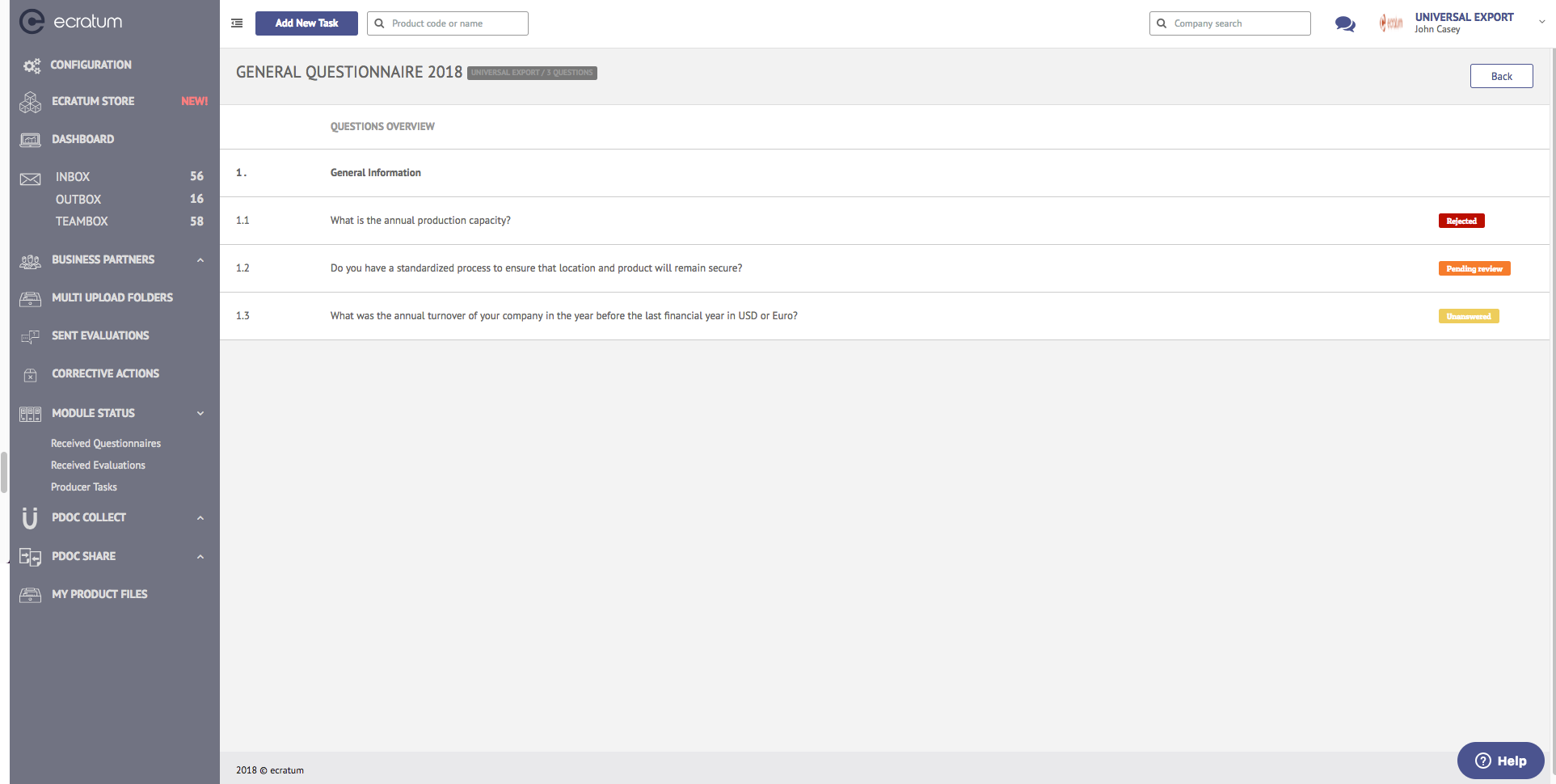 ---