ecratum connects customers and suppliers to work in a collaborative environment by providing them with a unique platform. After signing up to ecratum, you can connect to your business partners who are already using ecratum and invite the ones that do not have an ecratum account yet to create an account and start collaborating with you.
Depending on ecratum products that you subscribe to, you are given some business partner items. In this article, you can find needed information which business partner group that you will be given per product and how to work with them on ecratum.
---
Business partners
ecratum classifies business partners of a company in 3 main sections:
My Clients
My Suppliers
My Supplier Groups
---
My suppliers & My supplier groups
If you activate an SRM product, you will be given My Supplier and My Supplier Groups along with Business Partners item in the sidebar.
---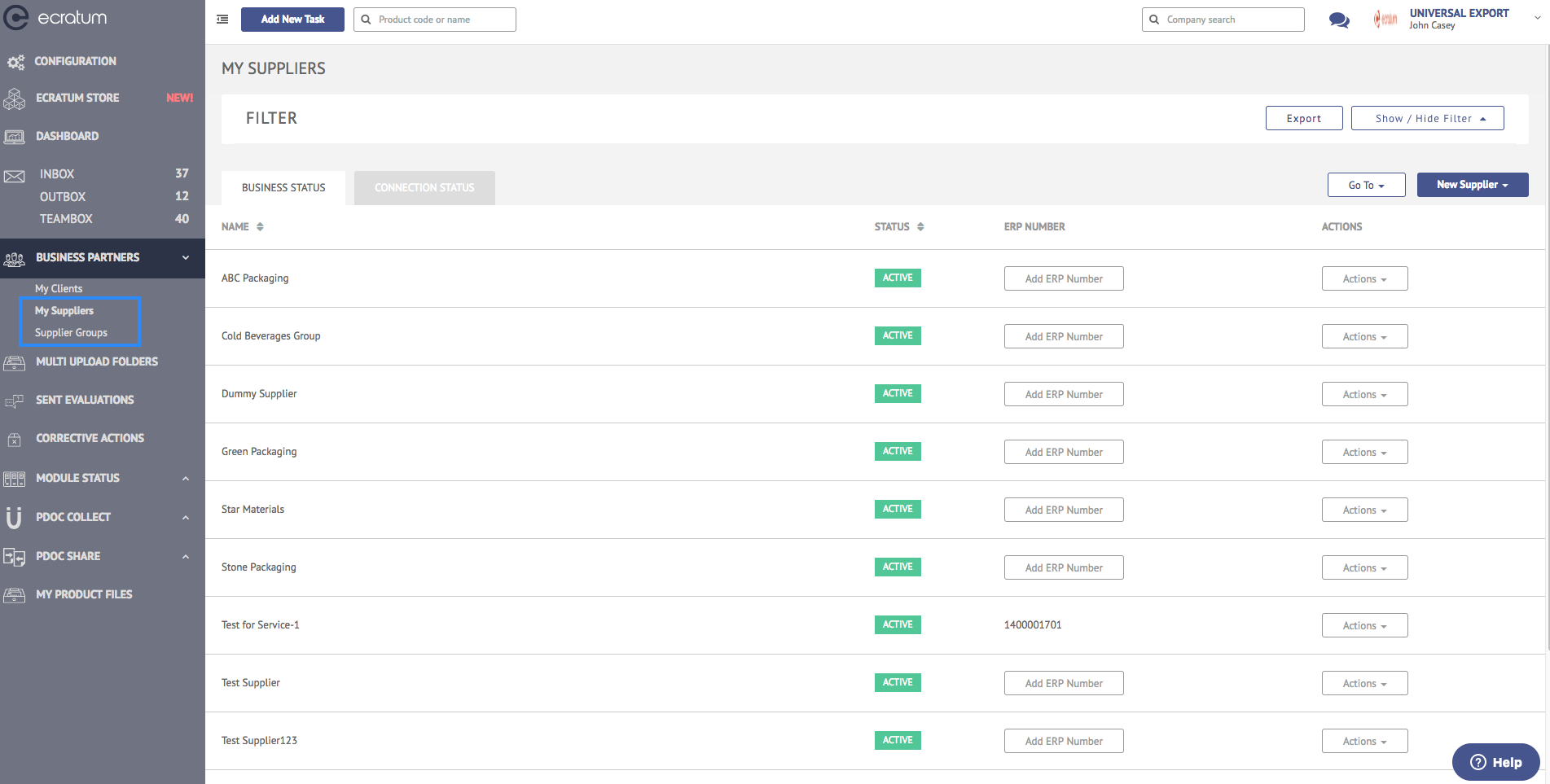 ---
You can easily create customized supplier groups. To create a customized supplier group:
Click on the Supplier Groups item of the Business Partners.
Press the Add Group button to be taken to the view where you can create your customized supplier group.
---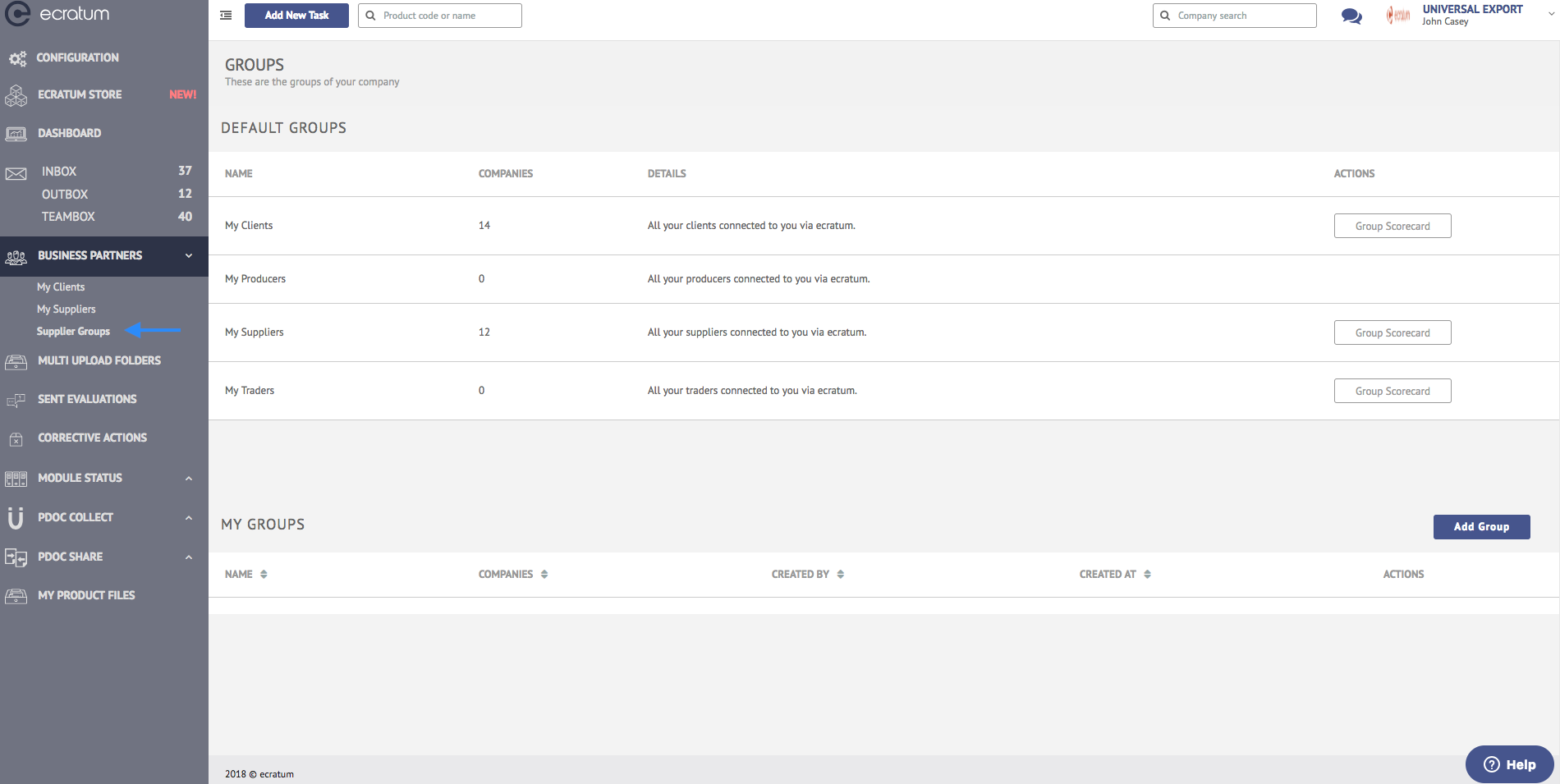 ---
On the new view:

Type a name for the group
Select a plan that you can define a supplier group (enabled only if your company holds the subscription of a custom plan)
Press the Create button.
---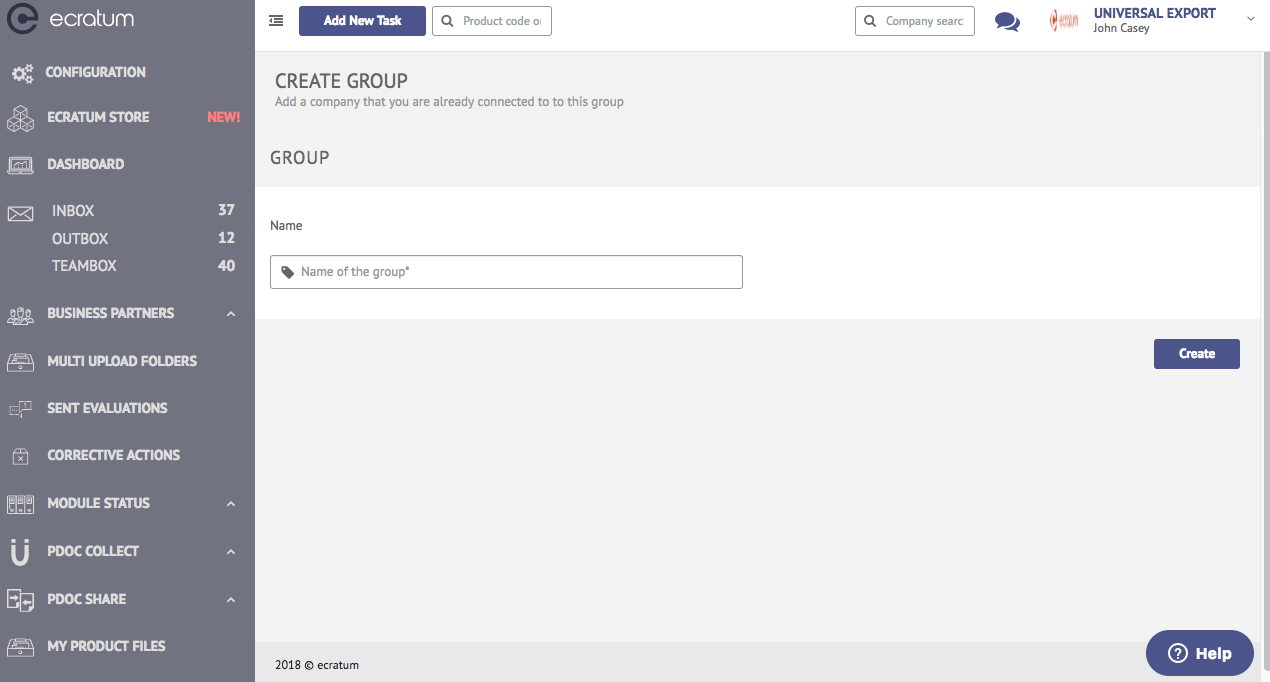 ---
Since you have created your customized group, you can now proceed with adding suppliers into that particular group. To do so:
Click on the Add Supplier To Group button.
---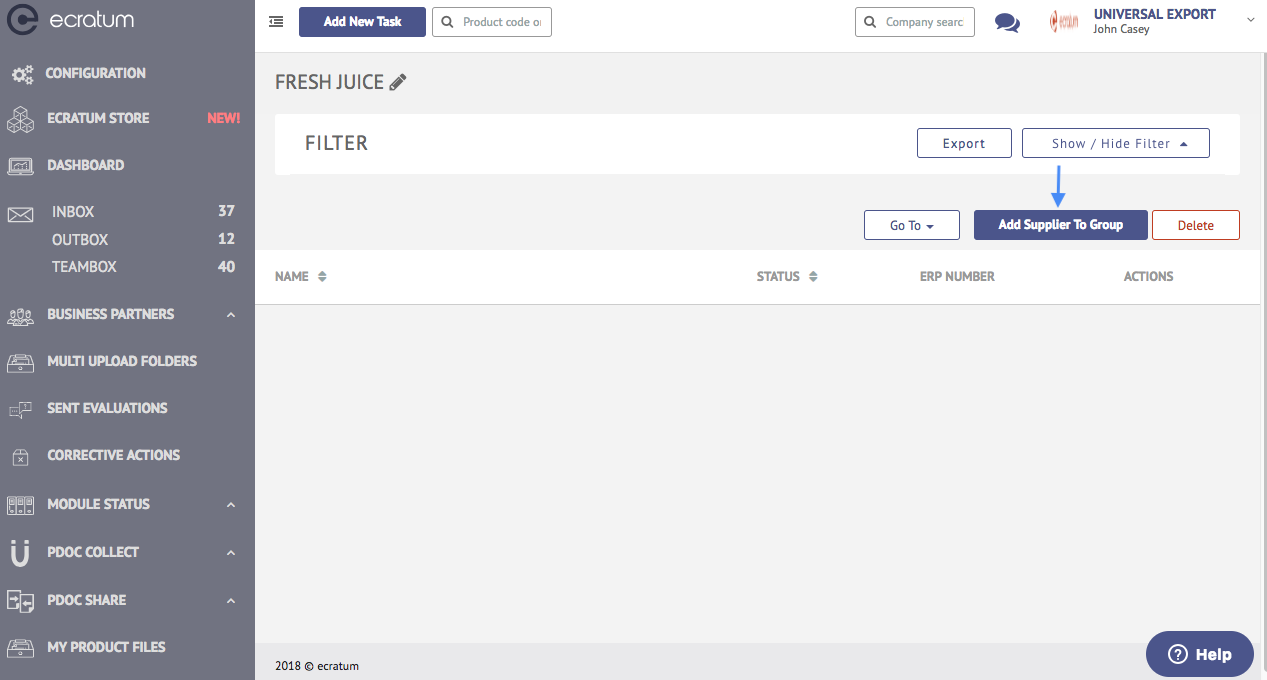 ---
Select the supplier that you prefer to add to the group and press the Add To Group button. Repeat these steps to keep adding companies to the group.
---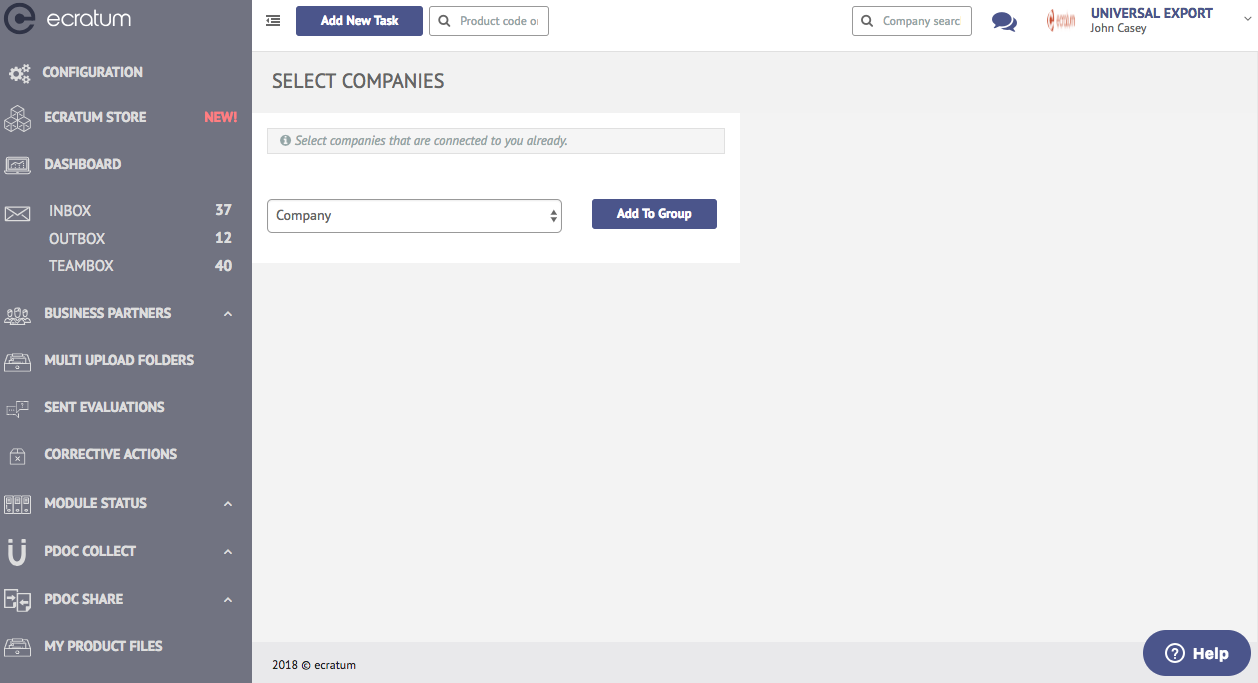 ---
My clients
You will be given My Clients along with Business Partner item in the sidebar if you activate

one

of the following CSM products:

PDoc Share

Support Tickets

Customer Complaints
---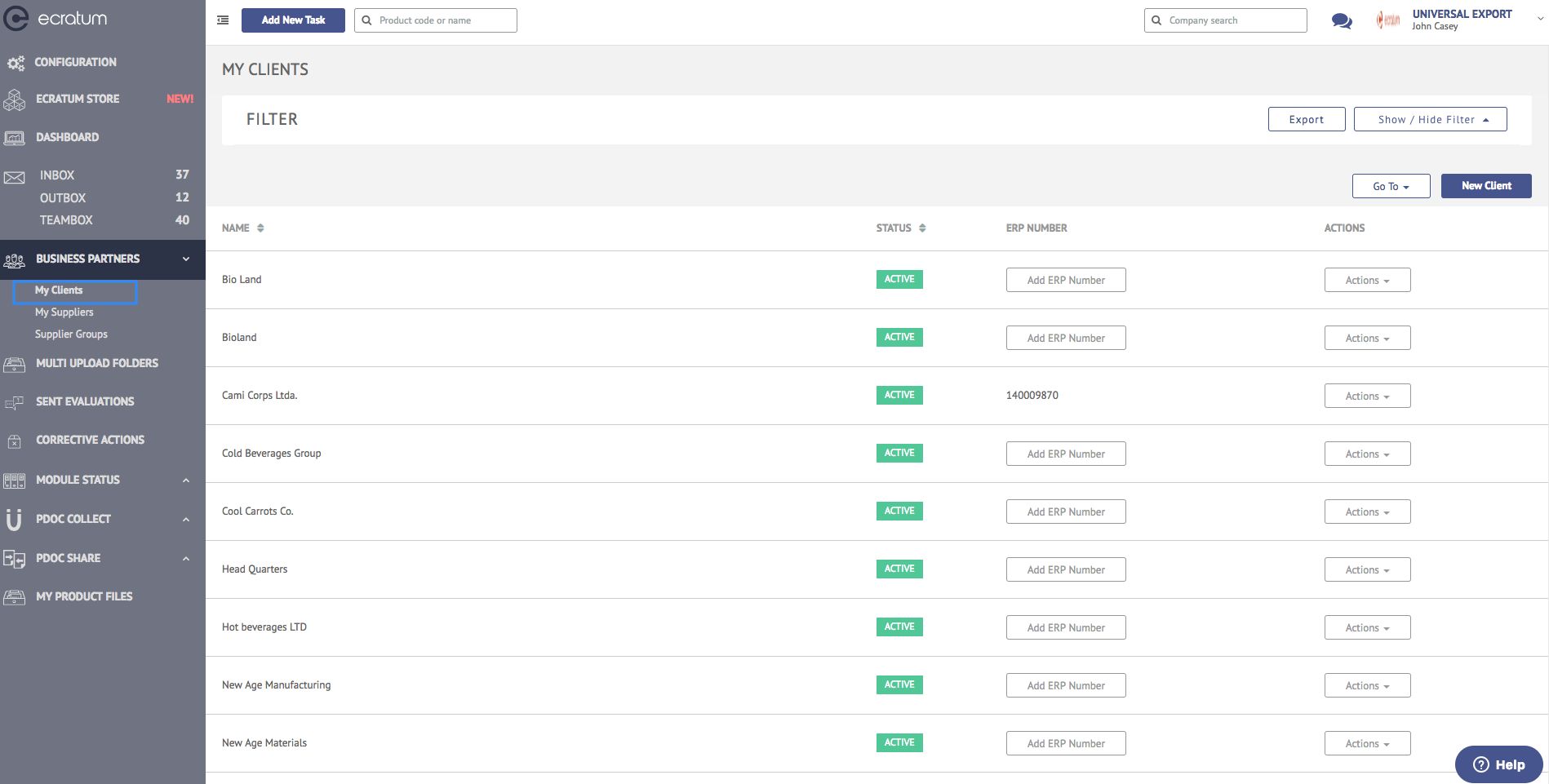 ---
Connect to or invite a supplier on ecratum
ecratum lets you collaborate with your suppliers in an easy and fast way. You can look for a company to see if it is already using ecratum and if so, you can easily connect to it. If not, an invitation form is also provided so you can invite your suppliers to join ecratum and start collaborating. To do so, follow the steps described above:
---
Connect to an existing company
Click on My Suppliers under Business Partners tab in the sidebar.
On the page that you are taken, click on the Add A Single Supplier button.
---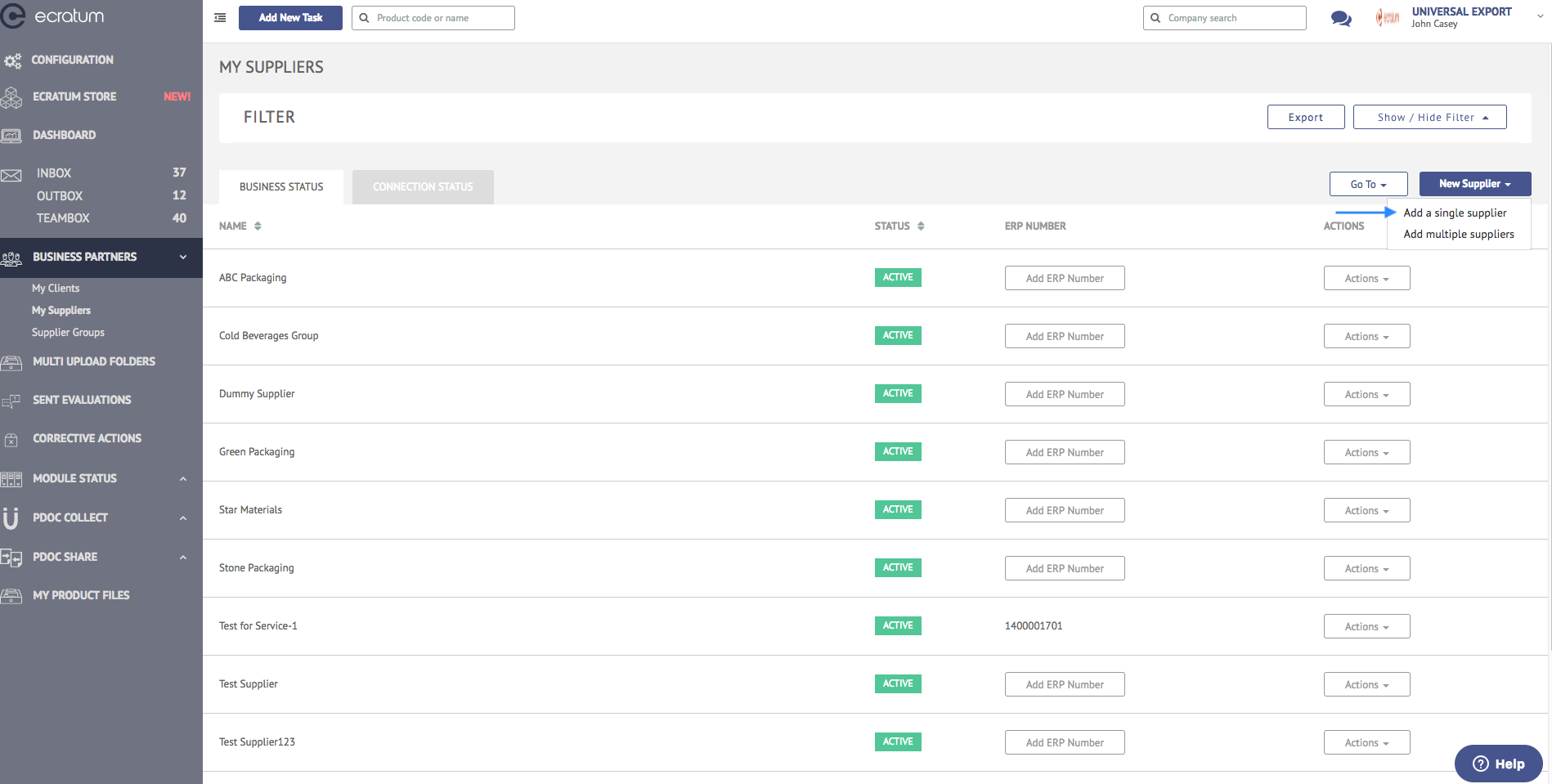 ---
On the new view, type a company name. If the company is on ecratum, it will be

shown

in the results. Press the Add To Group button if the company exists in the results.
---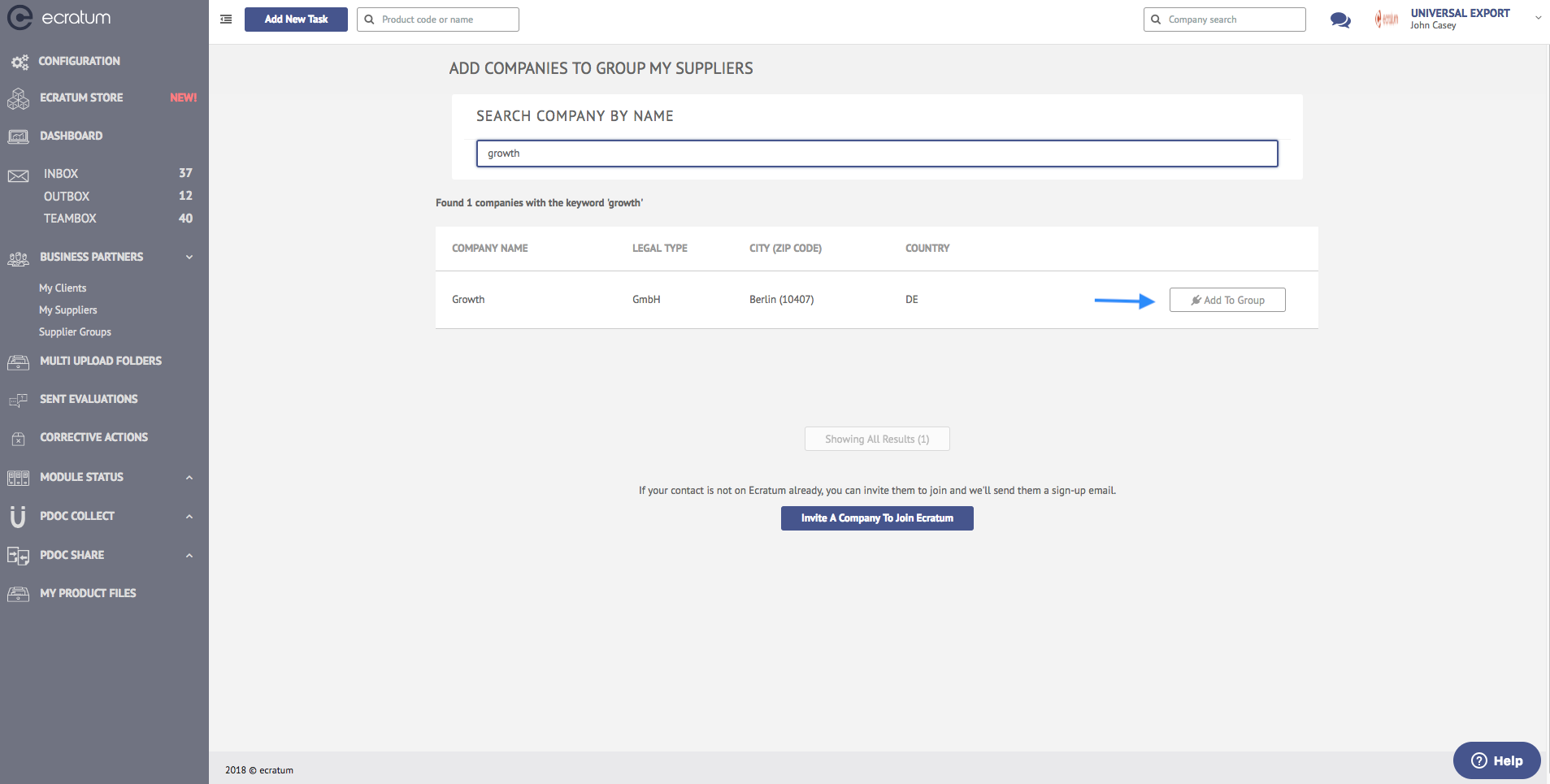 ---
Press the Connect Company button to confirm your action and the company is now added to your suppliers.
---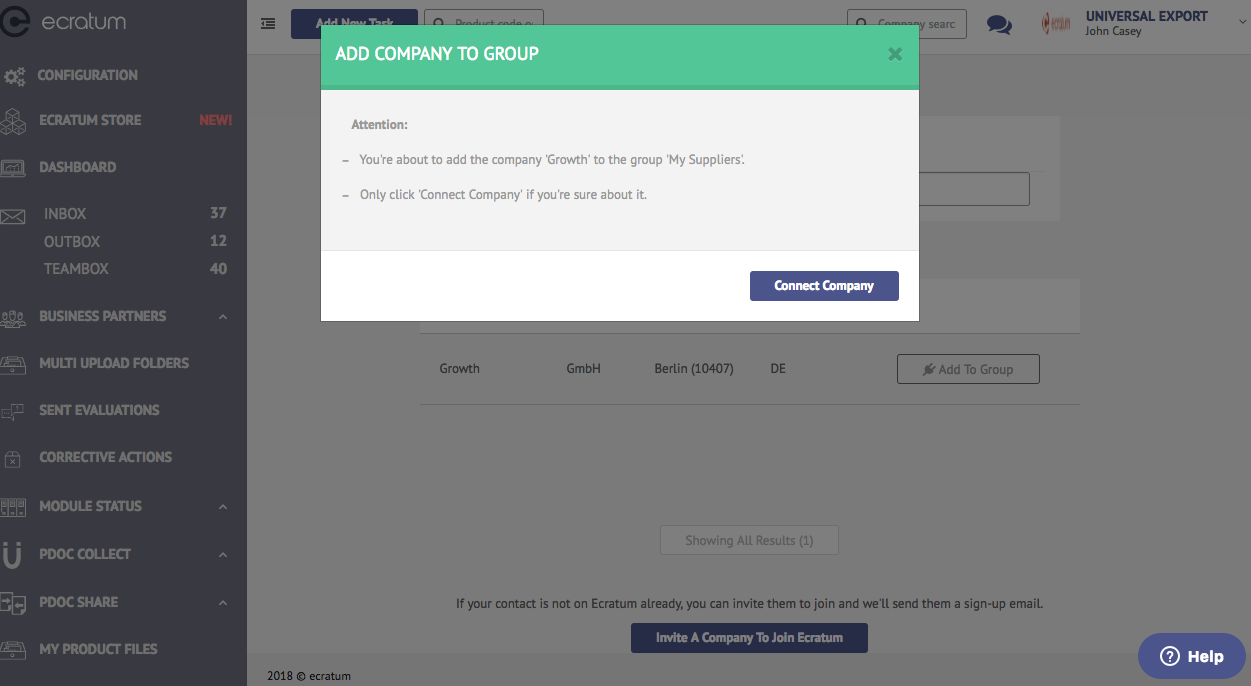 ---
In addition to adding a single supplier as your business partner, ecratum enables you to add multiple suppliers at once.
By selecting Add multiple suppliers option after pressing the New supplier button, you can upload a CSV file that reflects the list of your suppliers.
---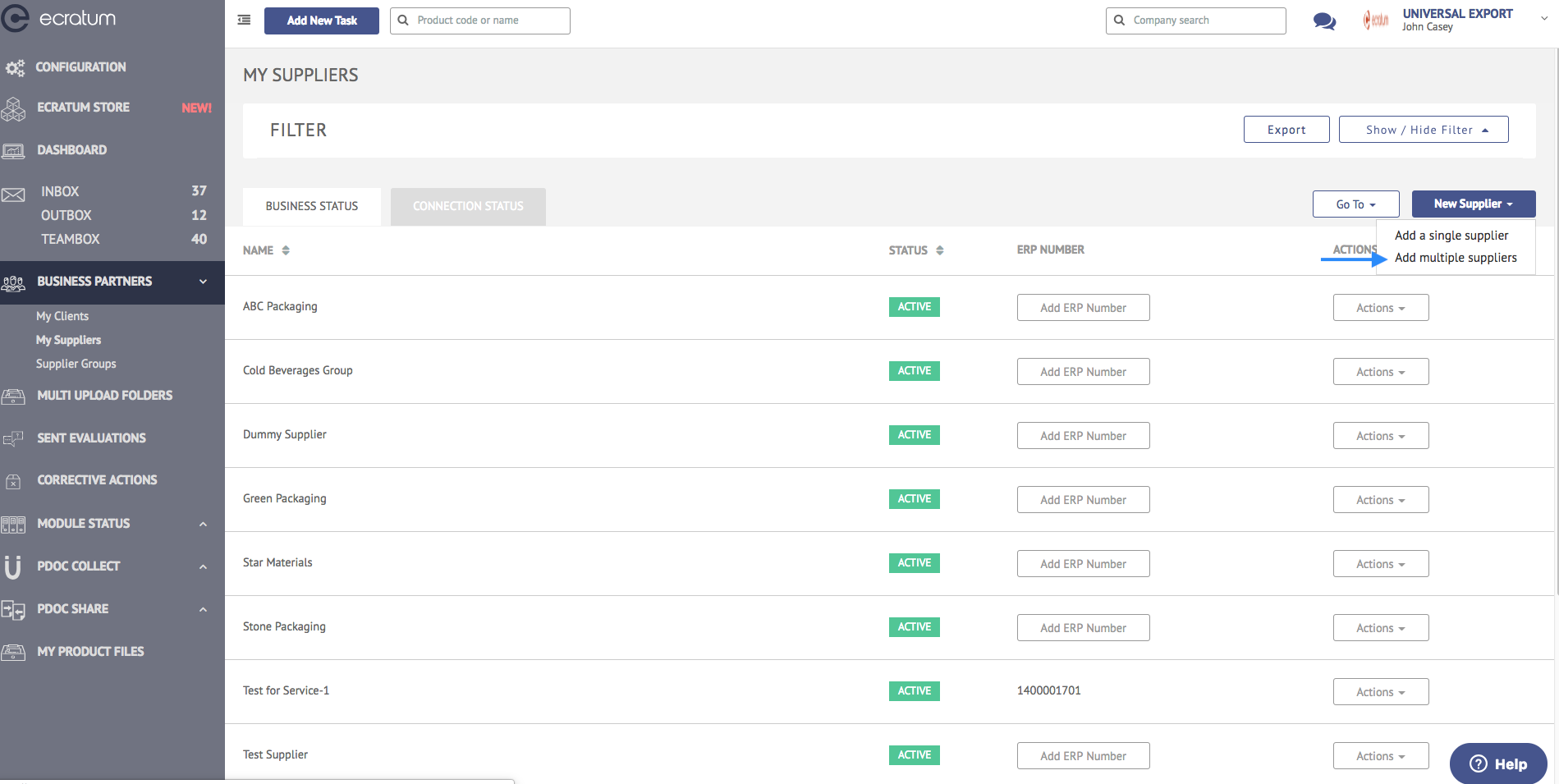 ---
Click on the Import Suppliers With CSV button on the new view in which you land and upload a CSV file that meets the requirements expressed.
---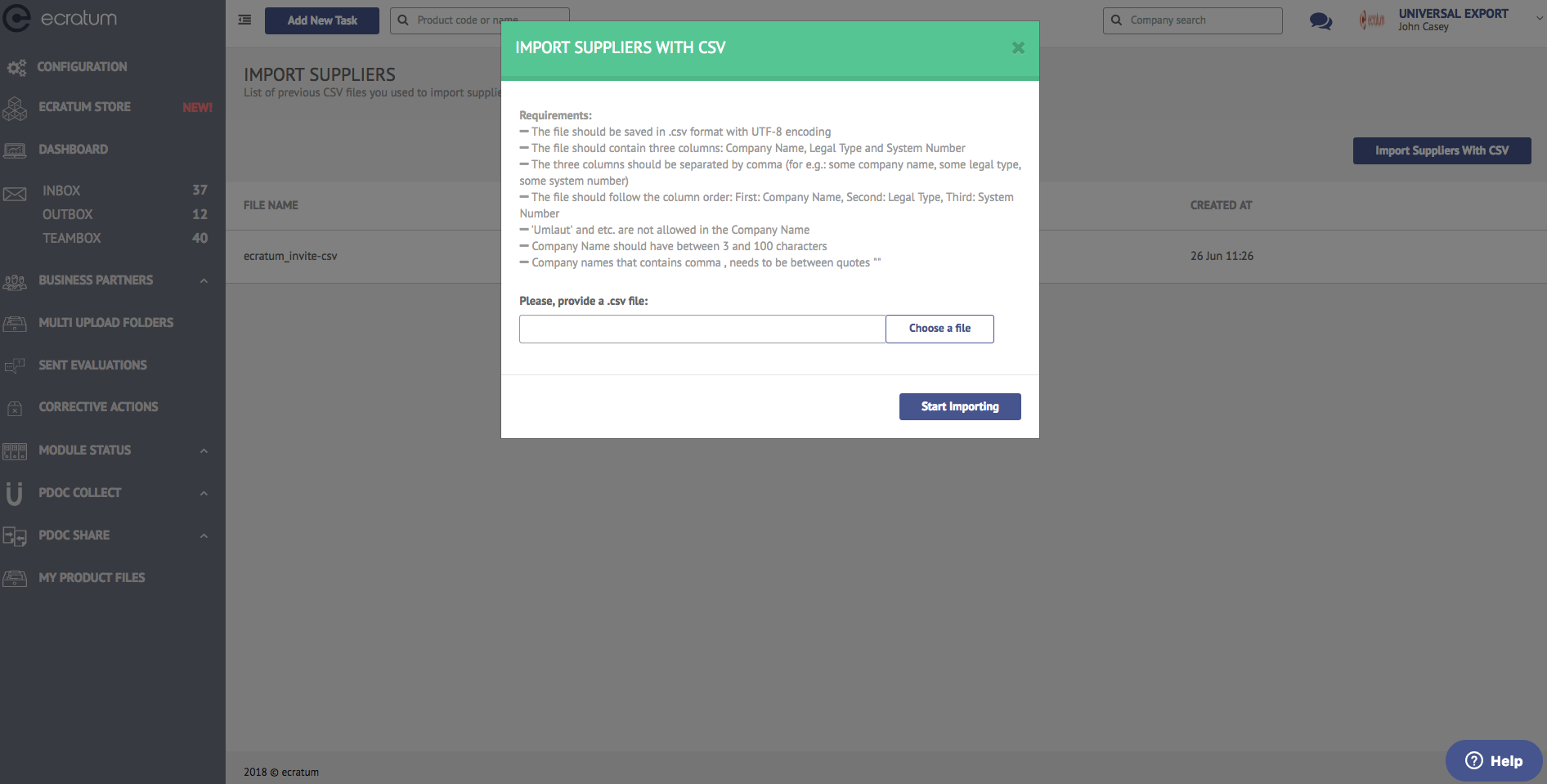 ---
Invite a new company
If the company that you look for is not found on your search's result, you can invite it to join ecratum for free.
Click on the Invite A Company To Join Ecratum button.
---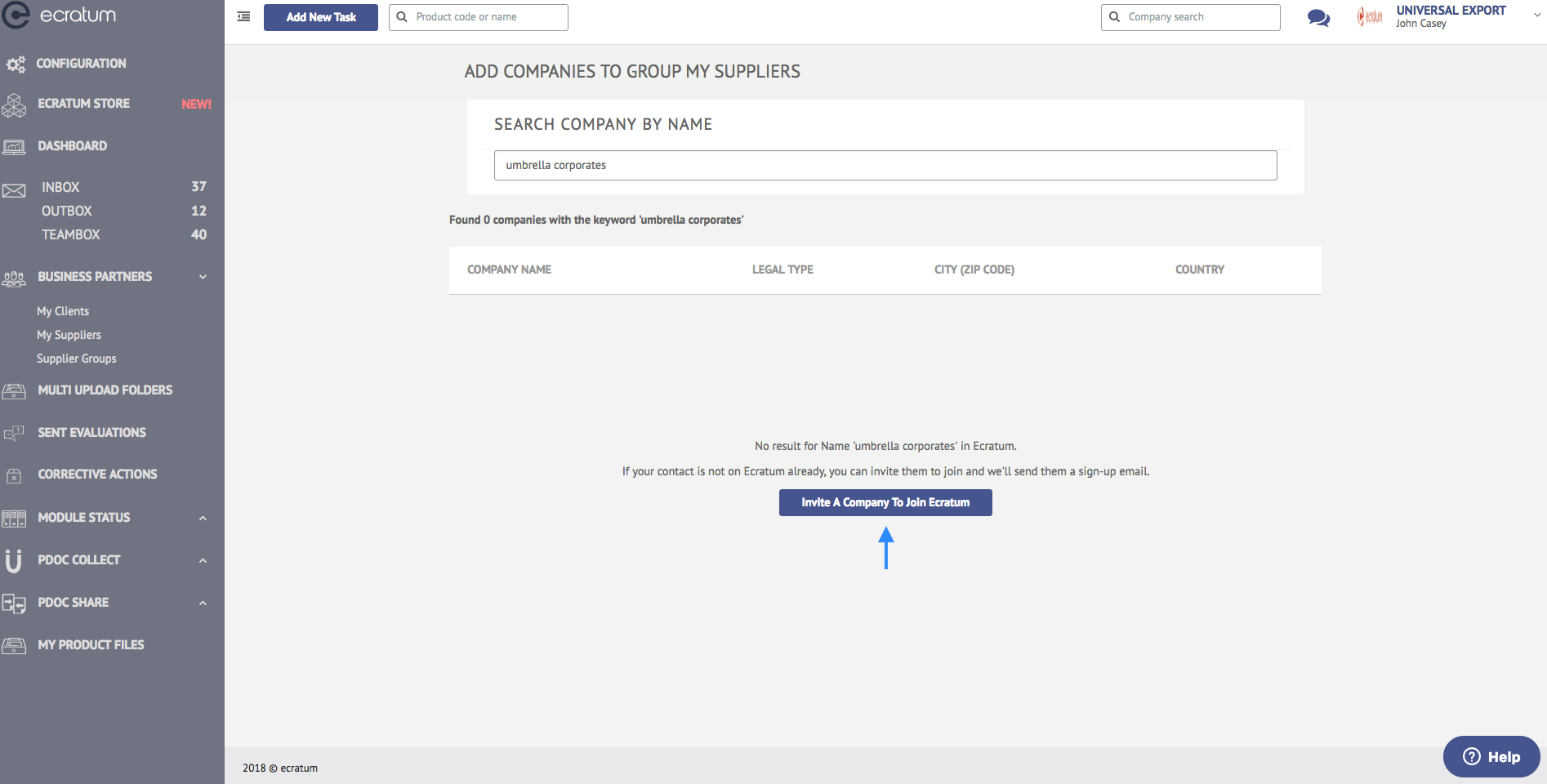 ---
Fill out the invitation form with required information such as company name, the contact information of the person that will receive the invitation and so on. By pressing the Send Invitation button, the company will be invited to join ecratum. To start collaborating with them, first, they need to take the invitation email and to sign up to ecratum through the link included in the email.
---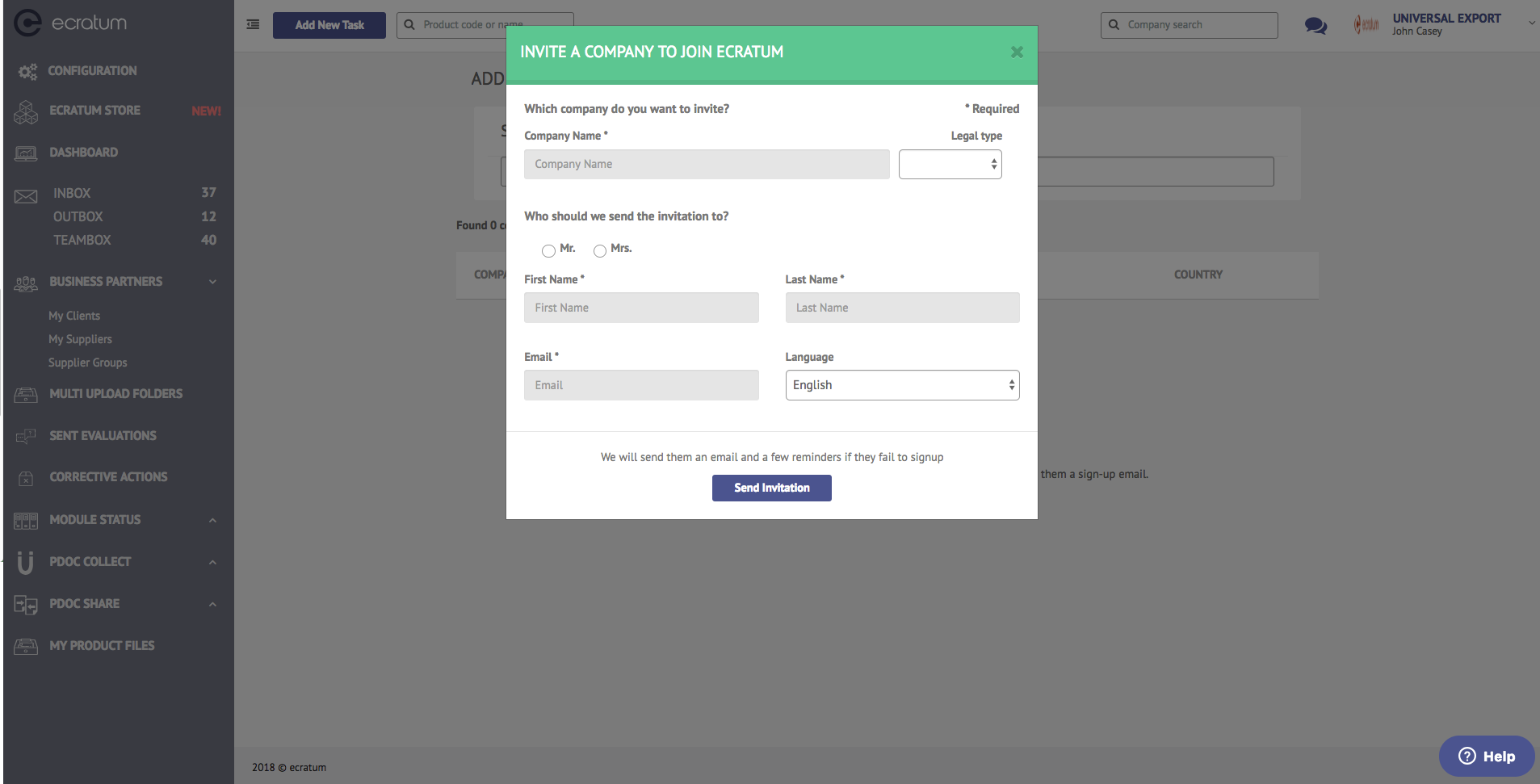 ---
Once you have sent the invitation, the invited party will appear in your My Suppliers page (Connection Status tab) with status Invited.
They will receive several invitations to sign up to ecratum over the course of one month. If they fail to sign up after the last email, their invitation will be considered as expired.
Resending or editing an invitation
If the invitation you sent out has expired and you wish to re-send it, or you wish to modify an existing invitation, you can do so by accessing the Connection Status tab on My Suppliers page.
Here you can resend an invitation by pressing the Resend button for your preferred business partner.
---
Once your supplier is connected to you or takes the invitation and signs up to ecratum, you can begin working with them by using SRM products. For instance:
---
Connect to or invite a client on ecratum
As a Customer Service and Support professional, you can collaborate with your clients via ecratum and provide them with an enriched customer service experience. Depending on the type of CSM product that you use, having clients on ecratum varies.
---
Connect to or invite a client through PDoc Share
Similar to invite/connect to a supplier mechanism, PDoc Share has

its

own invite and connect view to enable users to collaborate with their clients. To get more details, how can you invite your clients through PDoc Share, read this article: How to invite clients and manage sharing
---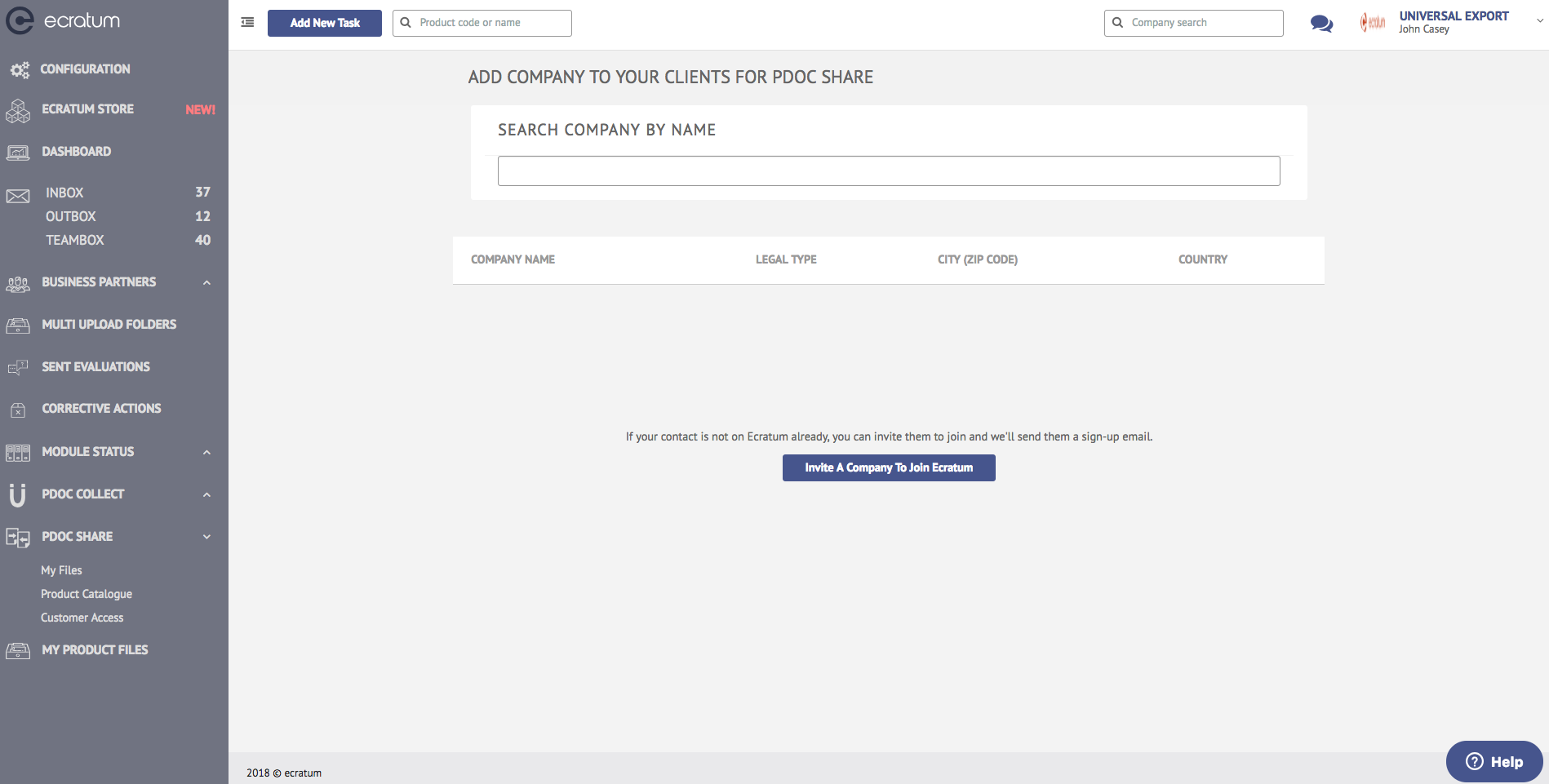 ---
Clients for other

CSM products
Support Tickets and Customer Complaints let you have your business partner as a client as a result of collaborating through these features.
When a company sends you a support or complaint ticket by using one of those features, they will become a client of yours and will be displayed in My Clients section of your Business Partners tab in the sidebar.
---
View a company's profile
You can easily view a business partner's profile with more details such as tasks that he/she sent to you along with their status. To view your business partner's profile:
Click on the preferred business partner group from Business Partners in the sidebar.
Press the Actions button of the company whose profile is desired to be viewed and click on

View Profile.
Tip:

To find the company that you look for faster, you can use the Filter on the page where you view a company group. Type the company name and press the Filter button, the company that you search will be shown in the results.
---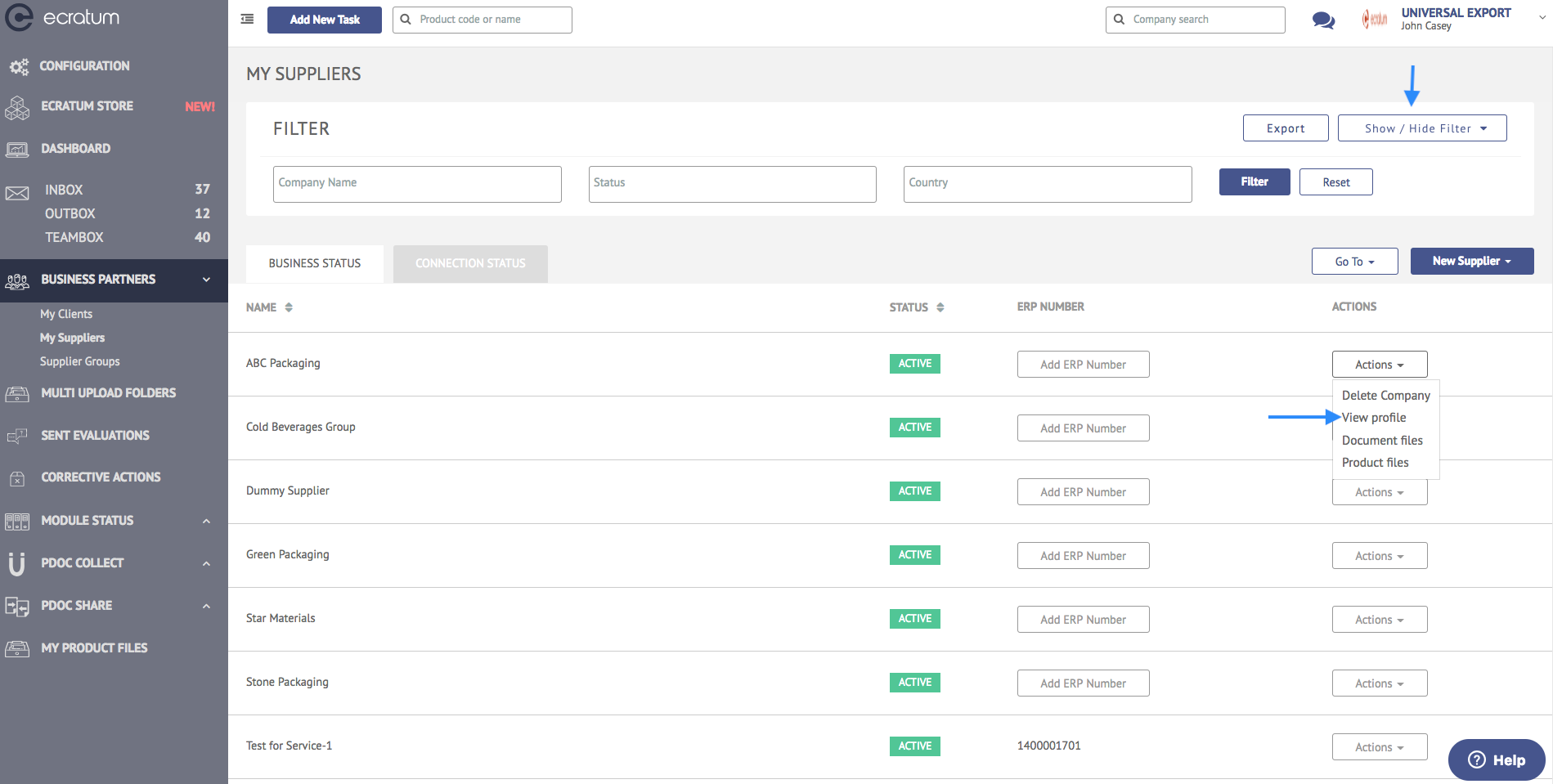 ---
You are now taken to the mini dashboard view for that specific client where you can find some information about the company like operative contact details, the summary of tasks sent by that company and so on.
---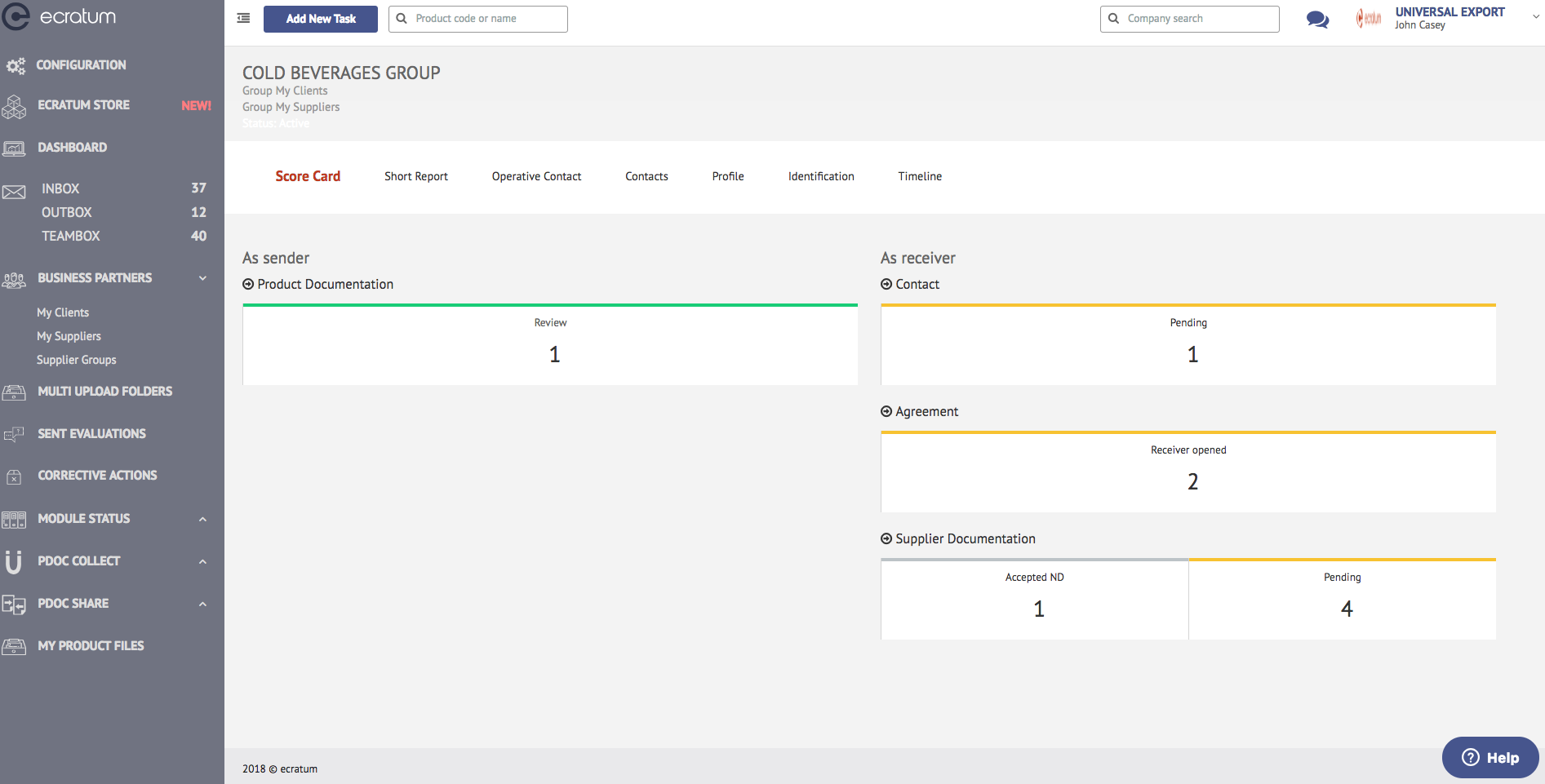 ---
You can view a short summary of task interaction occurred between you and your business partner.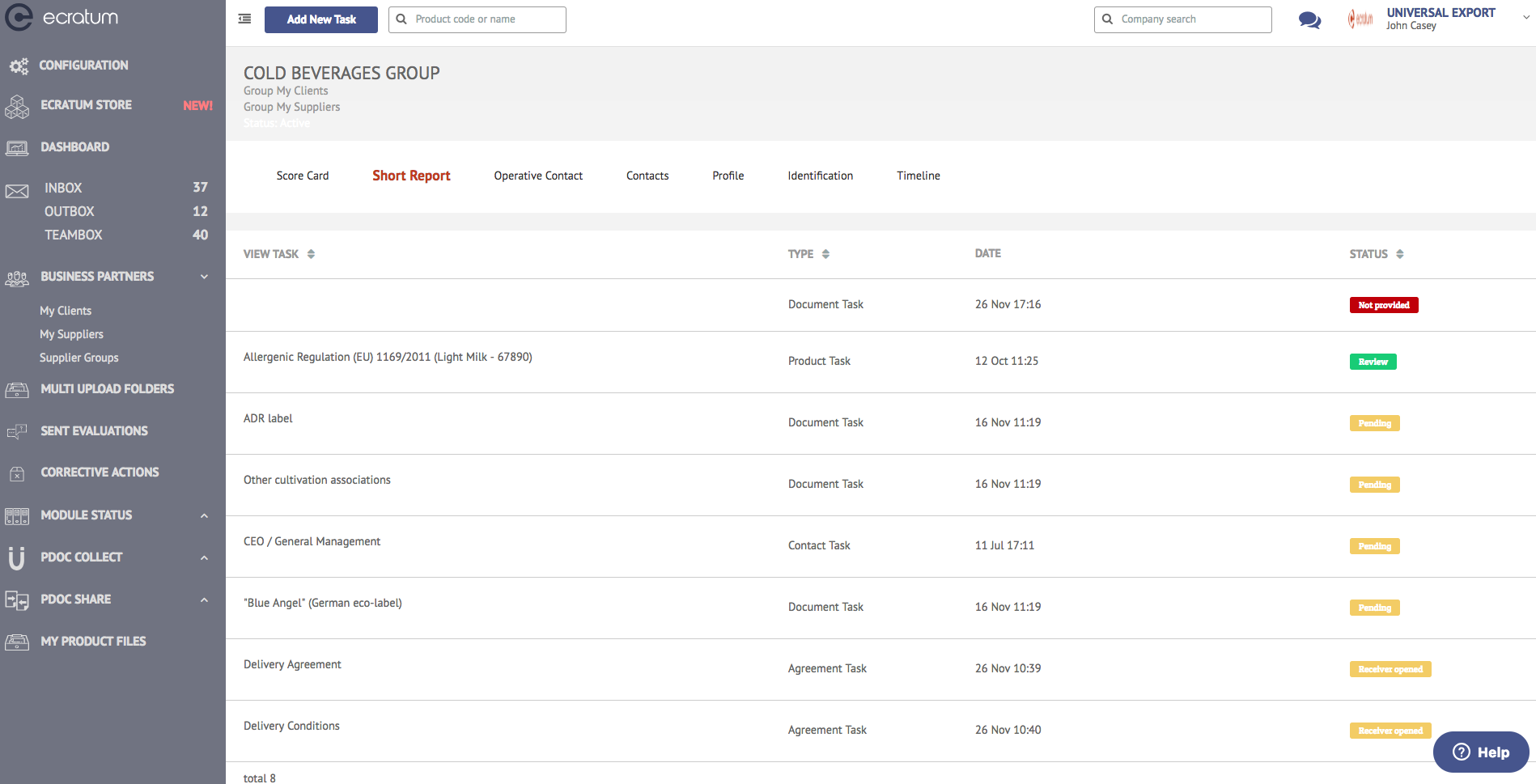 ---
Read Also: