You can use workflows to define task transactions occurred between companies. There are 3 different workflow categories that you can create depending on the ecratum modules you use:
Document workflows
Product workflows
Question workflows
If your company holds a Custom Plan subscription, you can create workflows in 2 types:
For Sending Tasks
For Receiving Tasks
If your company holds a Service Plan subscription, you can only create a workflow for:
---
To set up each workflow you must select:
A preferred workflow category

Type of the workflow (either for sending tasks or receiving tasks)

Company or company groups which will be in the other side of the flow

Document/Product/Questionnaire type to be sent

User of the other company who will either send the task or receive it
When a workflow is created between your company and your business partners, the user on the other side will be assigned to the stated task and workflow type.
The workflow options for a user that has a Custom Plan is demonstrated on the image below.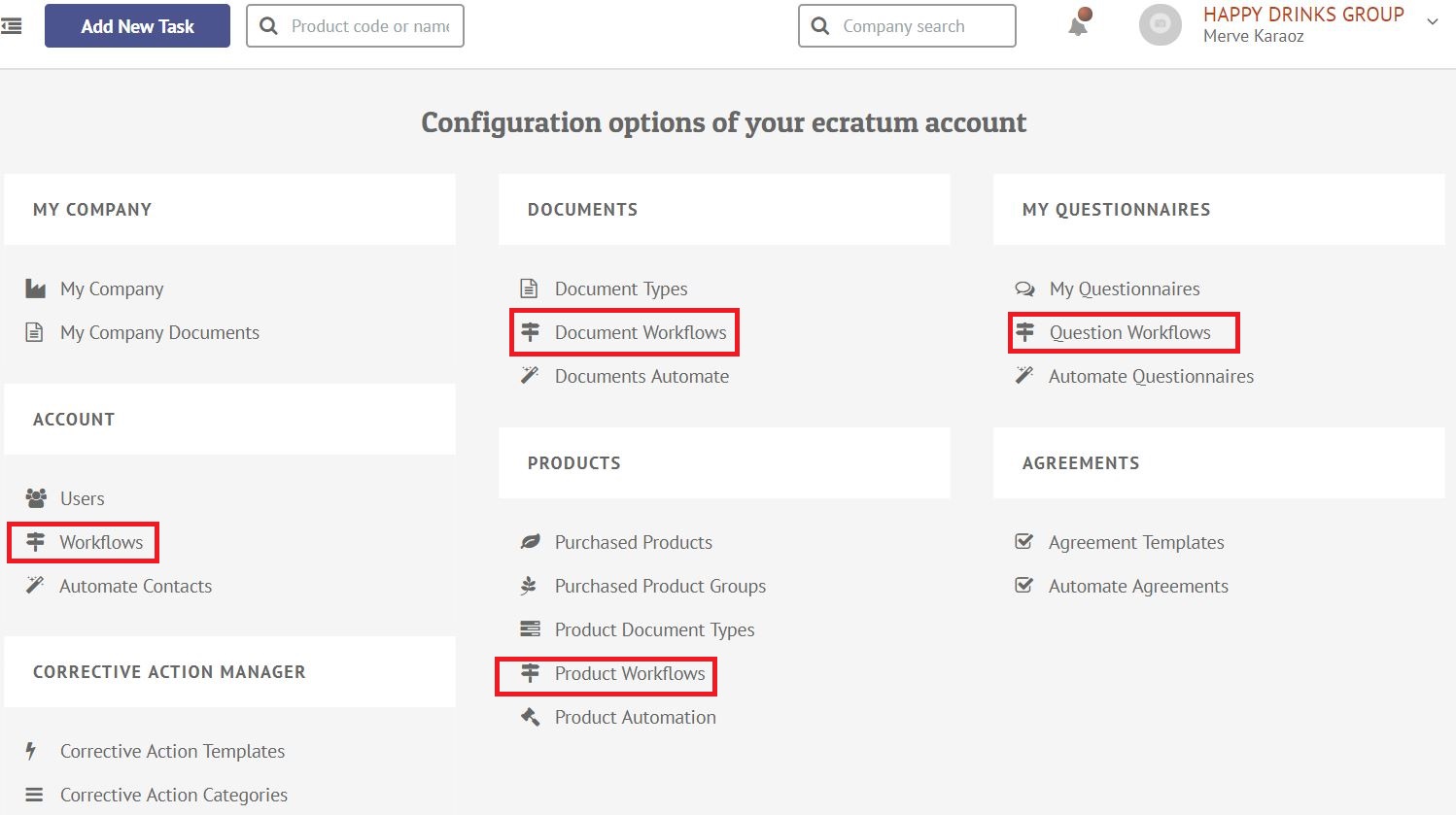 ---
How can you create a workflow?
To create a workflow, you need to take the following steps:
Go to the Workflow section of the Account tab i

n

the Configuration.
Choose a workflow category by hovering on the New Workflow button.
Hint:



Additionally, you can also

directly click on the workflow type. E.g. click on Document Workflows on the Configuration if you want to create a workflow for document tasks.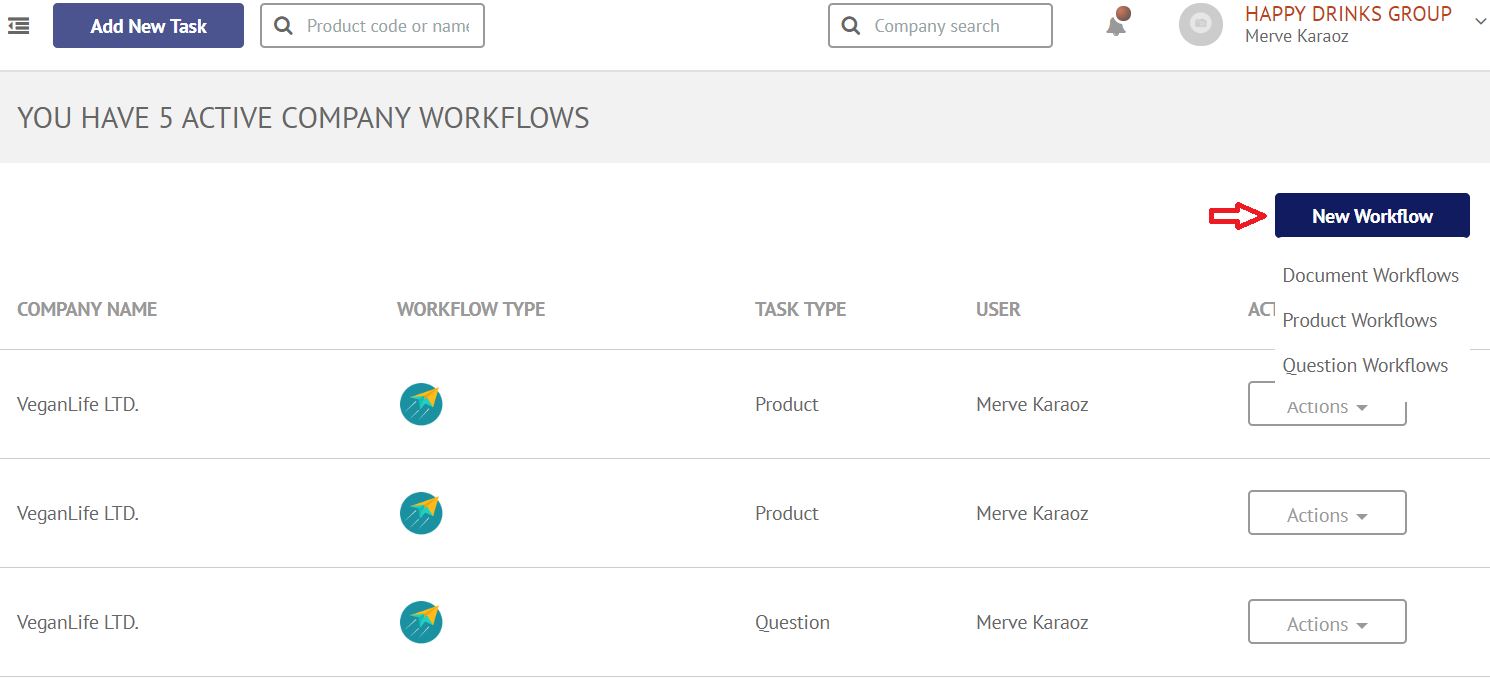 ---
You are now taken to a multi-step process:
Step 1-Choose the workflow type
Define the workflow whether it is for sending tasks or receiving them.
Press Next to proceed.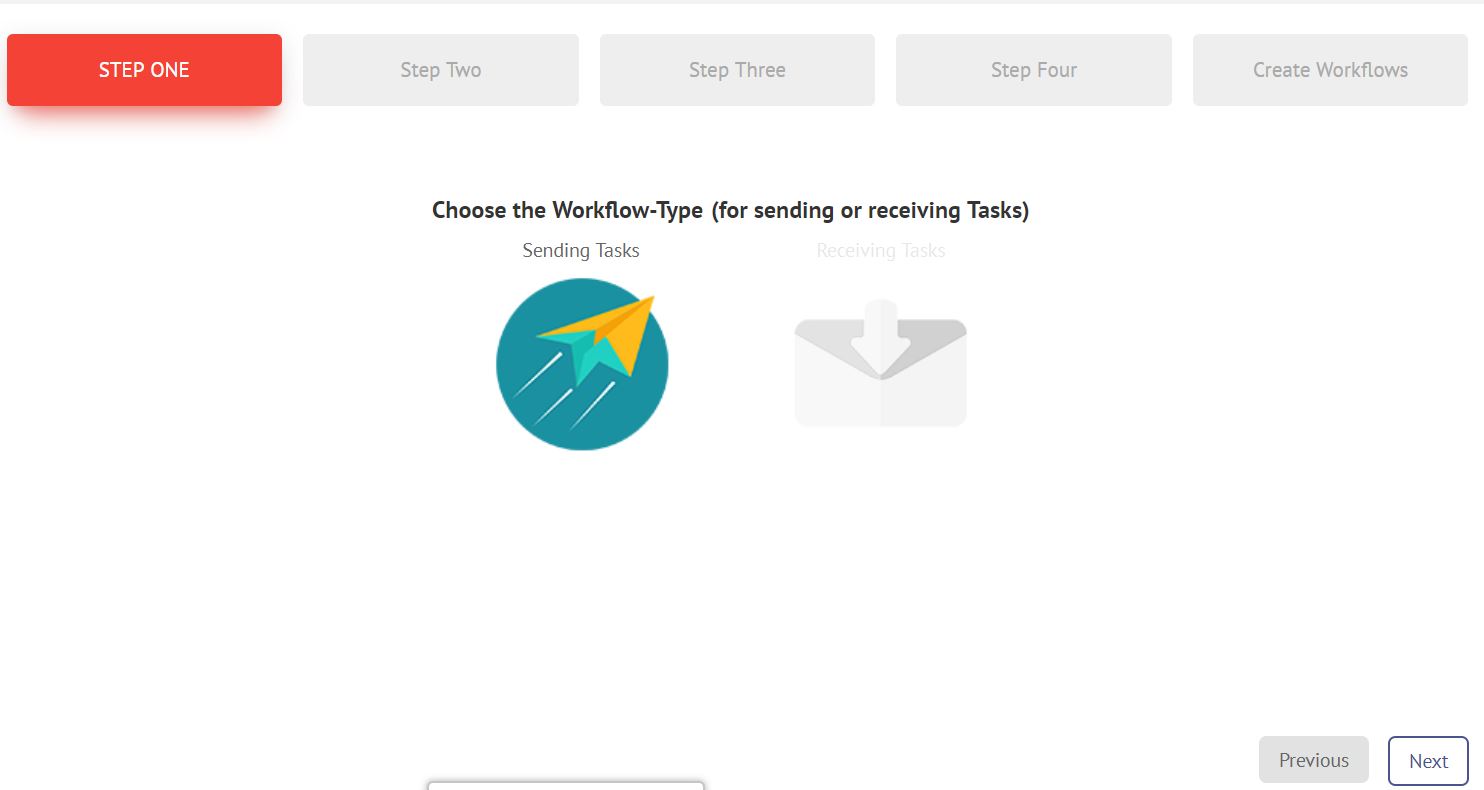 ---
Step 2-Select a company or group
Choose

for

which company or company group you want to define the workflow.
Press Next to proceed.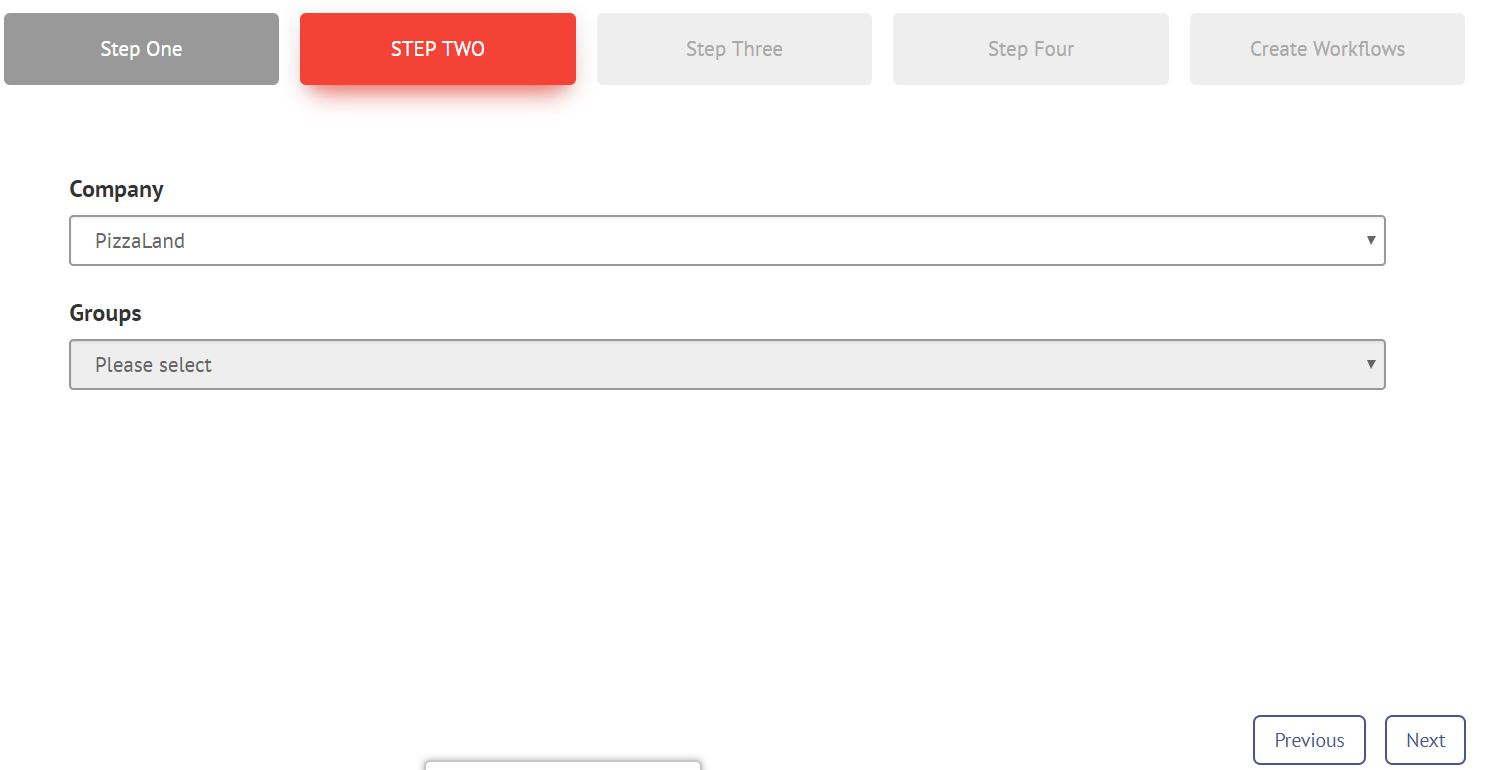 ---
Step 3-Choose a document/product document/questionnaire
Depending on the workflow category that you use, you need to select a document or product document or questionnaire type.
Press Next to proceed.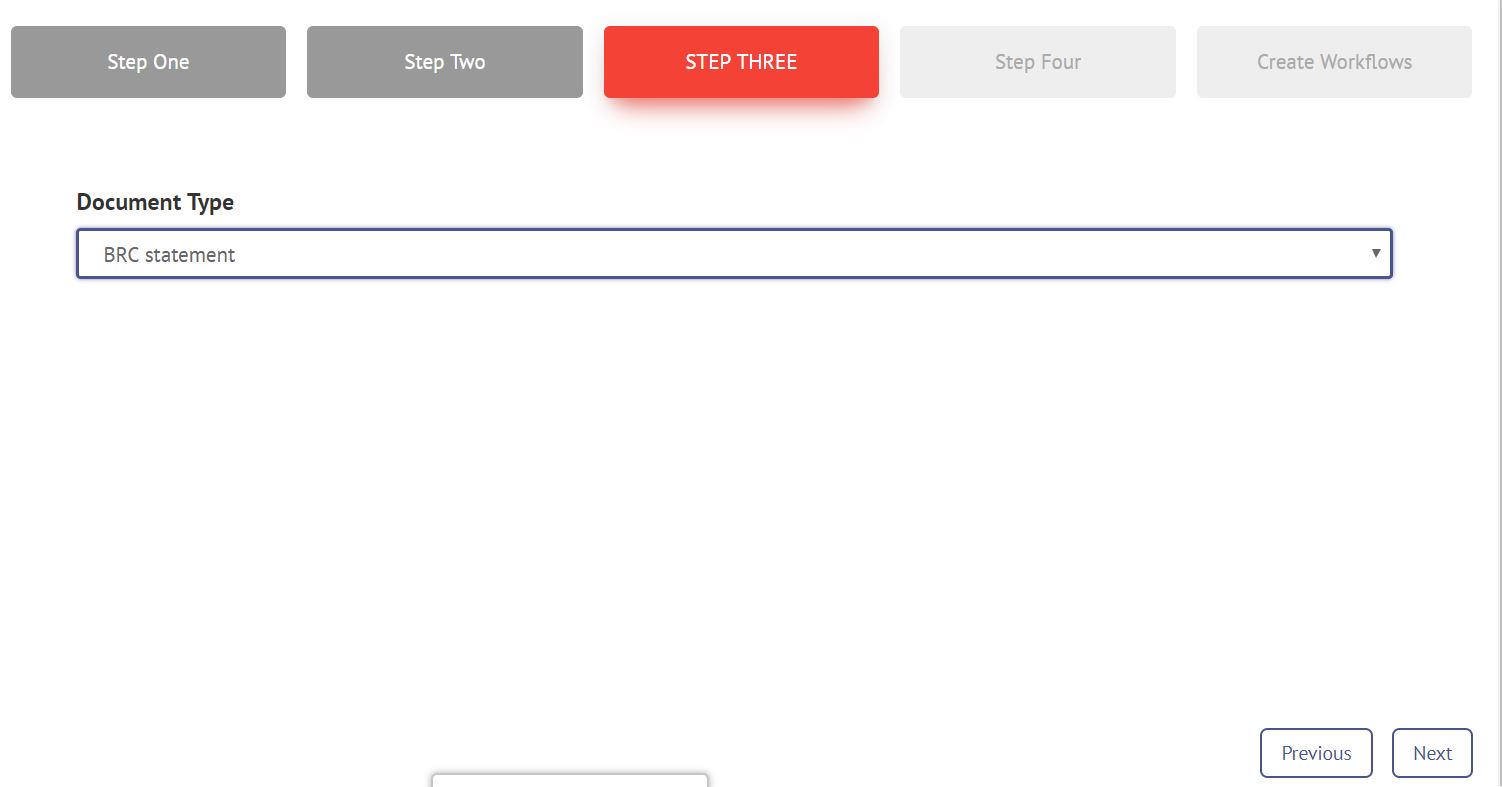 ---
Step 4- Select a responsible user
Before completing the creation of a workflow, the last action that you need to take is to select a user from your company that will be responsible for sending or receiving the task defined in the workflow. To select a responsible user from your company:
Select a user from the drop-down menu.
Press Next to proceed.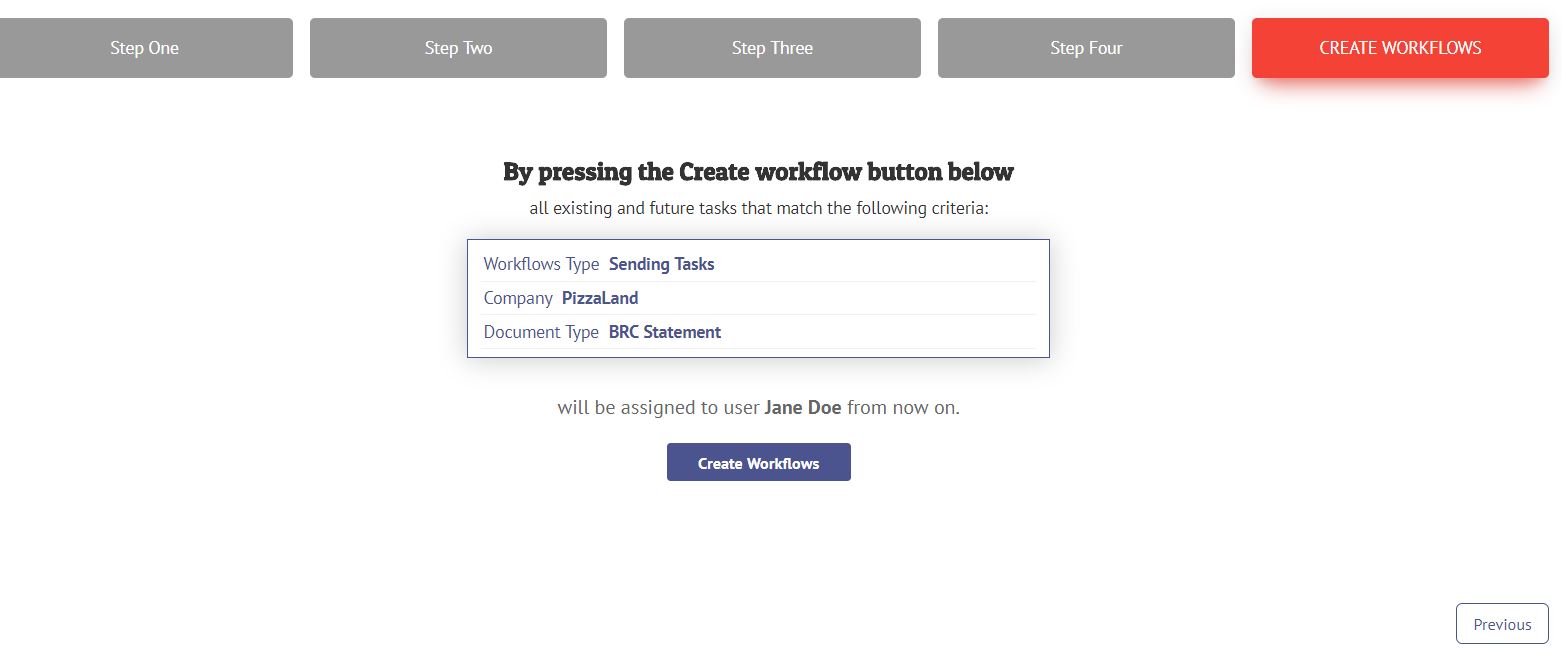 ---
Step 5-Finish creating a workflow
To complete creating a workflow, press the Create Workflows button.

---
The workflow is now created. You can view it with its details.

If you want to delete a workflow, you can do it in two ways. First one:
Through the Workflows view and pressing the Delete option of the Actions button.

The second way:
Through the Delete button located on the detailed view of the chosen workflow.

---
Note: If you remove a user from a plan of which you hold the subscription, all existing workflows for that user will be deleted.