Depending on the ecratum products that you use, you have different navigation items and functionalities for your ecratum account. In this article, you can find overview information regarding ecratum's general concept and functionalities.
---
Dashboard
After logging in to ecratum, your first view will be the Dashboard where you can view all your sent and received tasks along with their categories so that you can have a direct overview of your "To-Dos" and the "To-Dos" of your business partners. ecratum informs you about your To-Dos either daily or weekly, depending on the frequency that you set for receiving emails. The communication with business partners is done through tasks on ecratum. To get further details about how you can work with tasks, check out this article: How can I work with tasks?
---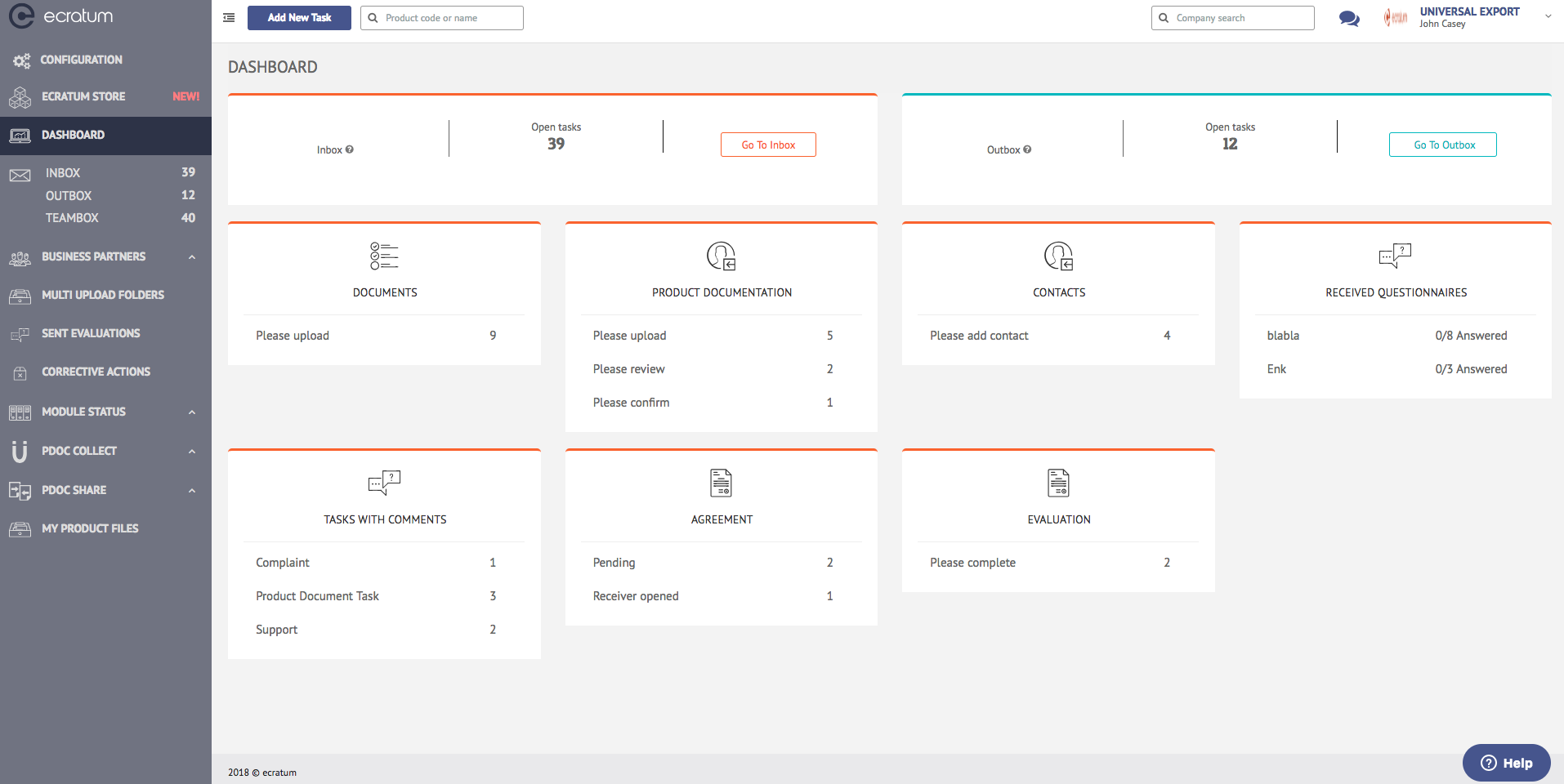 ---
Configuration
Configuration is the location that you can perform some actions concerning your account and the products that you use.
---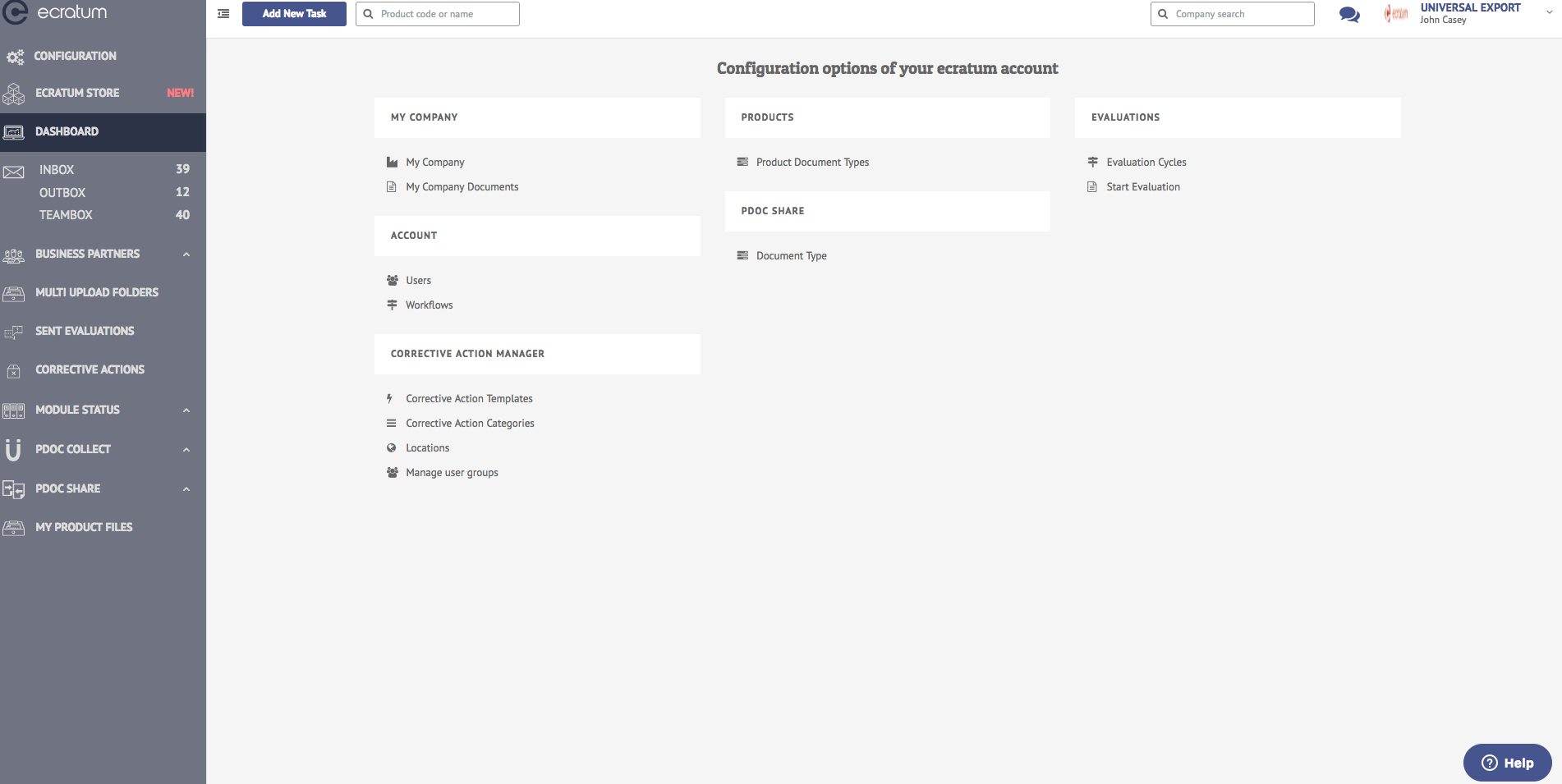 ---
Through Configuration, you can:
Click on the respective article that you want to get detailed information about the items mentioned in the Configuration:
---
ecratum Store
You can choose suitable ecratum products for your needs via ecratum Store.
There are several tools available in ecratum Store for Customer Service/Support professionals and Quality/Purchasing professionals. To start benefiting from them, all you need to do is to press the Get Started button of preferred products and then, you will be taken to the view where you can find the information regarding your preferred product. After pressing the Activate For Free button and confirming your action, you will be able to start using that particular product.
---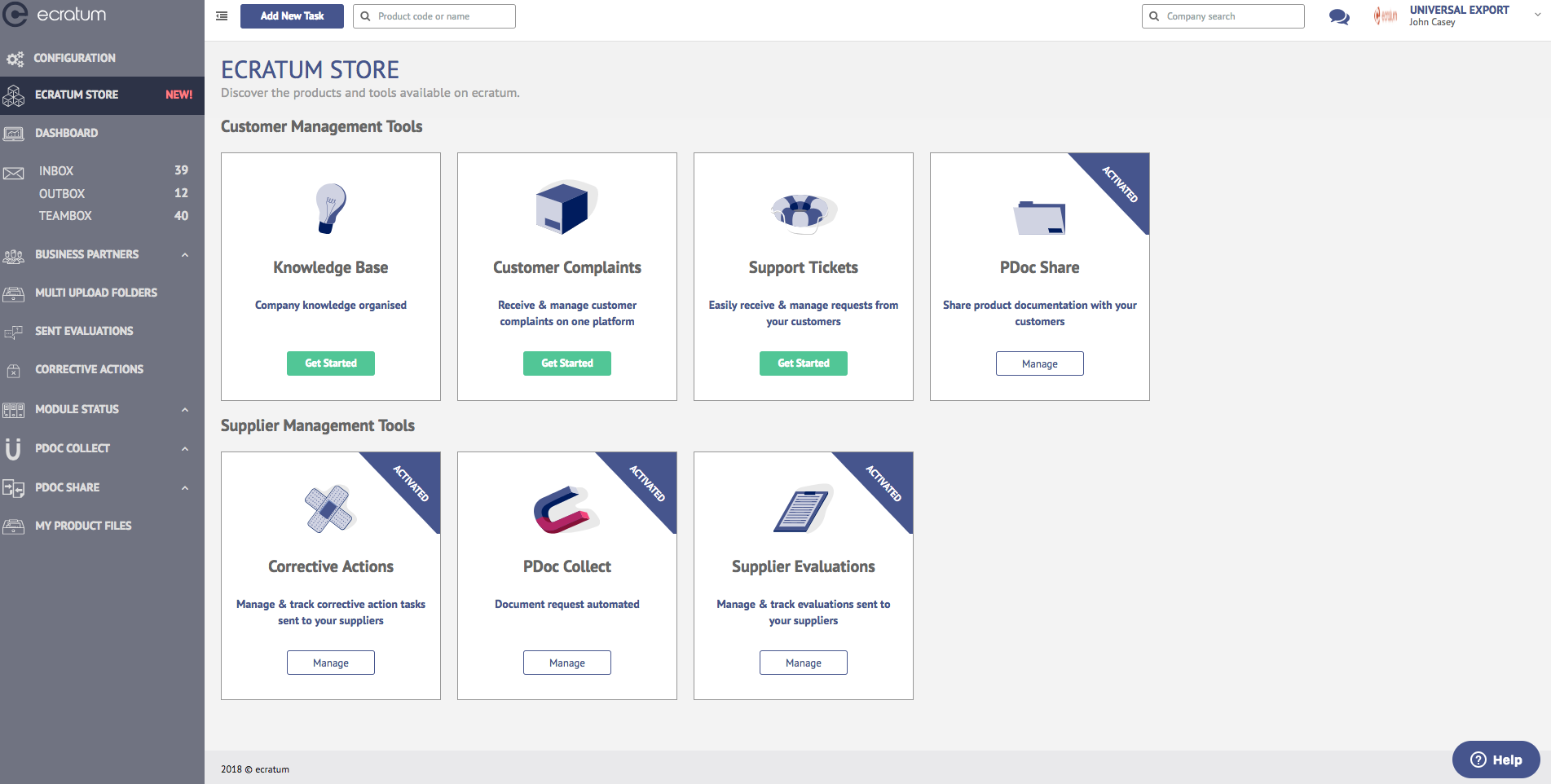 ---
To have a better understanding of ecratum products and how your subscriptions work, you can read the following articles:
---
Inbox/Outbox/Teambox
ecratum provides you:
An Inbox to view all received tasks.
An Outbox to view all sent tasks.
A Teambox to view all cumulative tasks received by all users from your company
---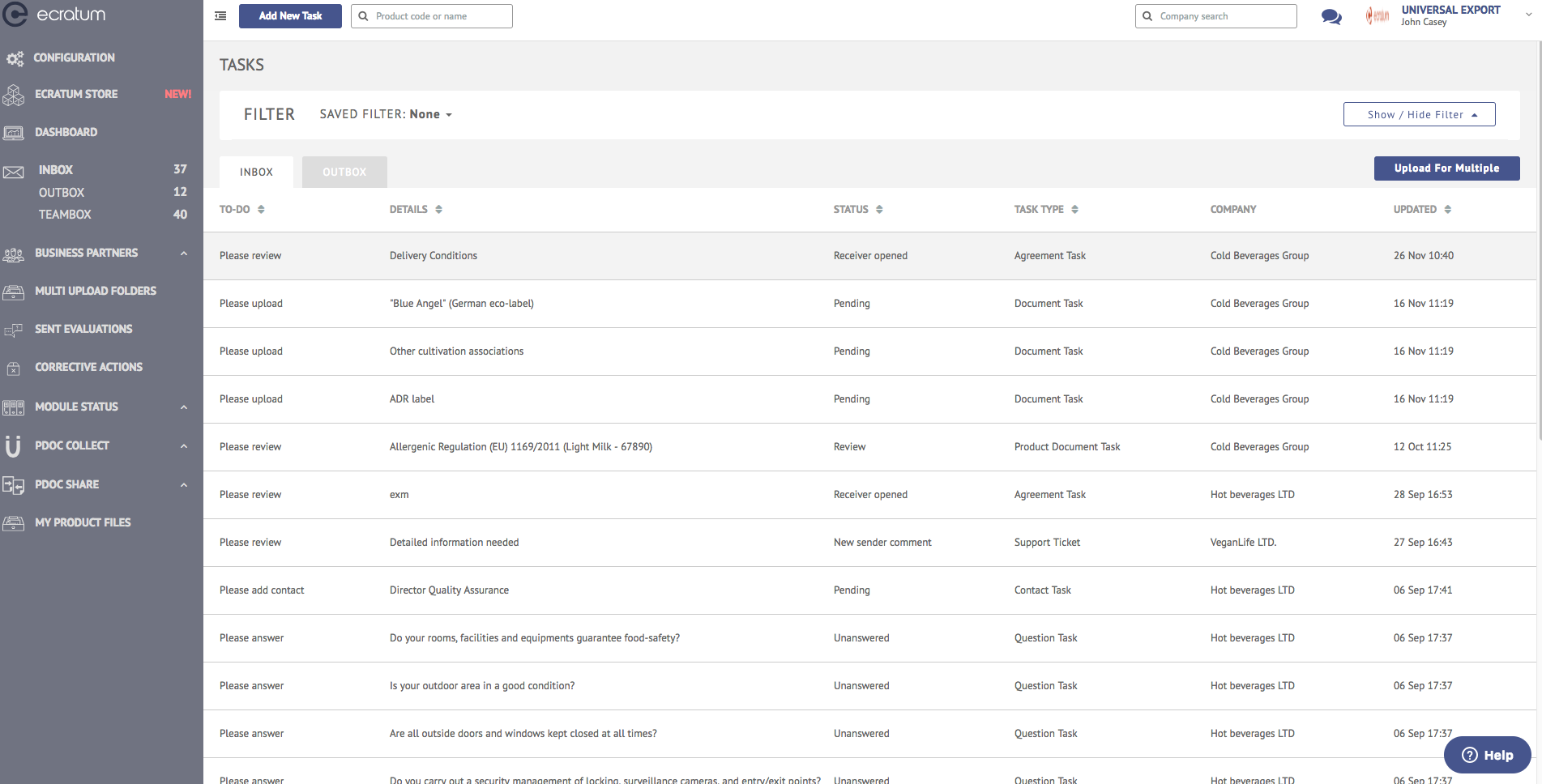 ---
Business Partners
ecratum brings customers and suppliers together to collaborate efficiently and effectively. After signing up to ecratum, you can contact your business partners who are already using ecratum and invite the ones that do not have an ecratum account to work together. Depending on ecratum products and plans that you use, you can collaborate with your clients and/or suppliers.
---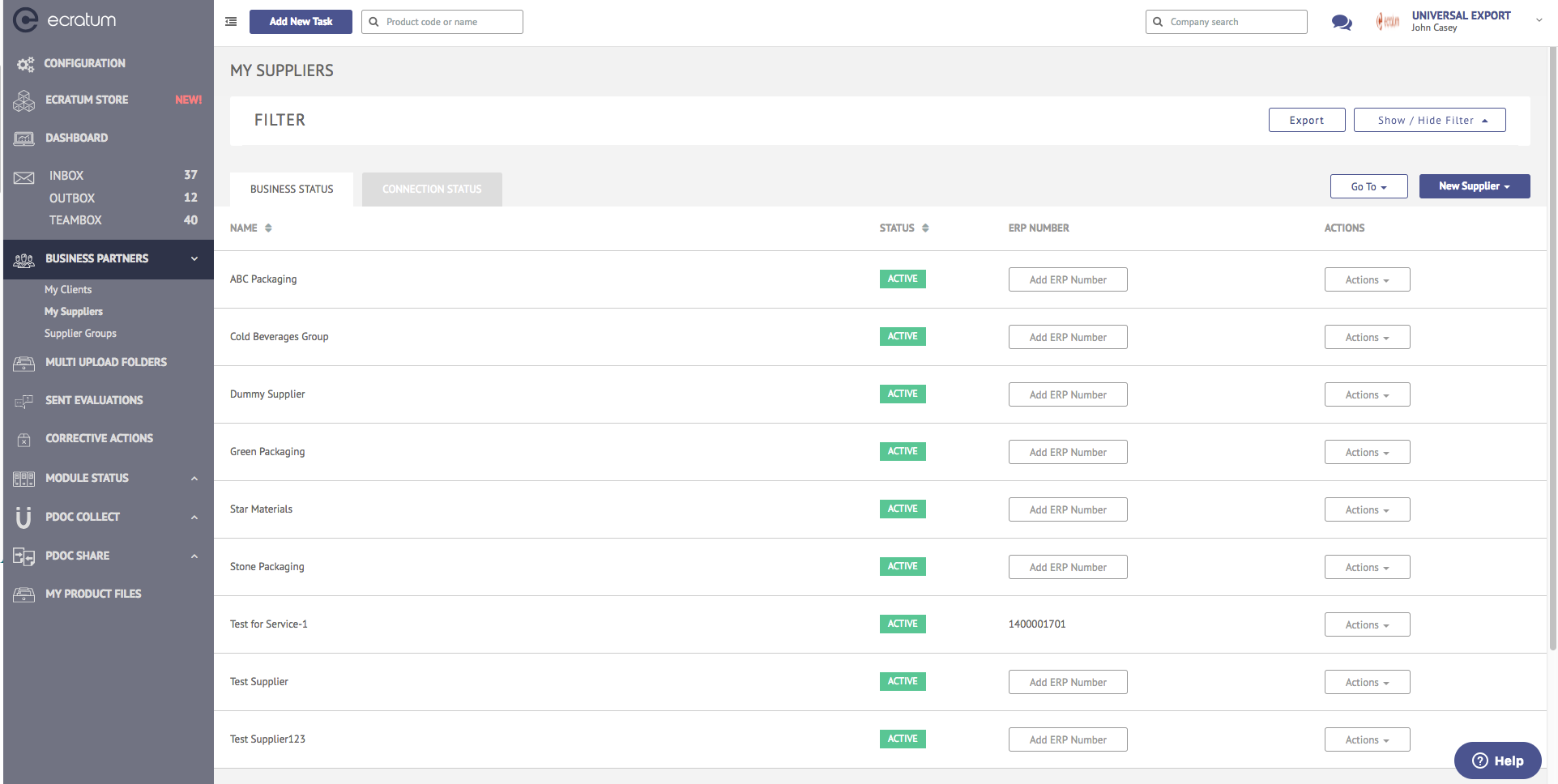 ---
To have detailed information about how you can work with your business partners on ecratum, read this article: How can I collaborate with my business partners on ecratum?
---
Read Also: